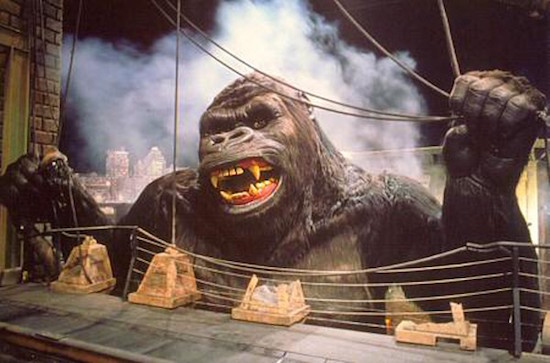 Imagine meeting the world's largest Ape on the streets of New York City and barely escaping with your life.  This was the scene for Universal Studios Florida's Kongfrontation ride.  The ride opened on June 7th, 1990 and closed on September 8th, 2002.  
The special effects made you feel like you were right there amongst all the screaming and turmoil when King Kong attacked New York City.  News reports are seen on monitors just as you are about to leave, about Kong escaping and wreaking havoc on the streets of New York City.  You then see overturned cars, broken fire hydrants, derailed elevated trains and exploding power transformers.  You feel like you just barely escaped Kong's wrath.  
After narrowly escaping the attack, you crossed over the river and just when you think everything is okay, **BAAM**, you are face to face with Kong himself.  As the tram approaches Kong, he tries to grab, and lift you, and then drops it after he was fired upon by police helicopters.  After escaping Kong for the second time, you will see yourself on the TV monitors in the trams, and you can watch yourselves on the ride as part of the breaking news report.  You arrive safely on Roosevelt Island, but Kong was not defeated.  Will he return?  Is Kong on his way back to Universal?  Watch the news and find out.
Written by JoAnne Traczek:  I am a retired Veteran who is enjoying helping people travel all over the world!  I enjoy planning all your travel needs, no matter what you need or where you go.  I have seen a great part of the world and love to share my knowledge with people who enjoy traveling.  Contact me when you want to see the world.  I will help you, one destination at a time.  You can reach me at joanne@destinationsinflorida.com.