Whether you are thinking about a quiet relaxing Cruise or a Family Cruise for sightseeing Freedom of the Sea is for you. There is so much to see and do or you can do absolutely nothing and relax.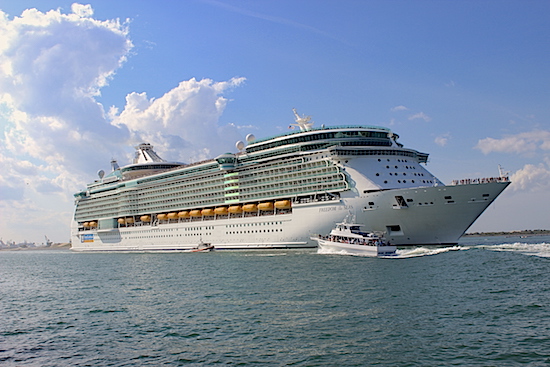 Rise to the occasion on Freedom of the Seas' rock wall. From beginners to speed climbers, everyone can enjoy an unparalleled view from 40 feet above deck. Included in your fare, no reservation required.   Only Royal Caribbean gives you the chance to catch a wave right onboard. Grab a board and hang ten on our 40-foot-long surf simulator, or cheer on friends from stadium seating with prime wipeout views. Give it a go – it's included in the cost of your cruise, no reservation required. Want to refine your FlowRider skills? Try a private lesson for a nominal charge on Royal's Flo Rider.n
How about all the great restaurants Freedom of the Seas has to offer? From Pizza to Steaks to Ice Cream you will never run out of food. Some of the favorites are Chops Grille which is a high-end grill where you'll find the likes of filet mignon and mesquite-grilled salmon on a menu that changes daily. there is an extra charge to dine here but well worth it. Another favorite is Sorrentos.  Sorrento's serves the best pizza and little sandwiches. They also serve desserts and cookies. They are on the Promenade deck and opened all day with daily specials.
Freedom of the Seas has some of the best children programming at Sea. Whatever age there is something to do. Children are divided into age groups. There are 5 different groups starting at 3 years and right up to your teens. Children from age 12-17 get access to parties at Fuel, the teen only club and have their own lounge area known as the "Living Room".
For children under the age of 3 Supervised programs on Royal Caribbean are not available for kids that are not potty trained or who are younger than 3. However, in partnership with Fisher-Price, there are special programs for Royal Babies that are 6 to 18 months old and Royal Tots for kids 18 to 36 months old. These programs are scheduled for parents and their little ones together throughout the cruise.
Written by Susan Norgaard: Susan creates lasting memories by planning customized vacations all over the world. Not only does she find you the BEST accommodations with the BEST value, but she will fill in all the blanks for you, all at no cost to you. Traveling is her passion! Passing that magic on to your family is what fuels that passion! If you are ready to save on your next vacation book your next vacation with Susan at susan@destinationsinflorida.com and 877-241-8663.