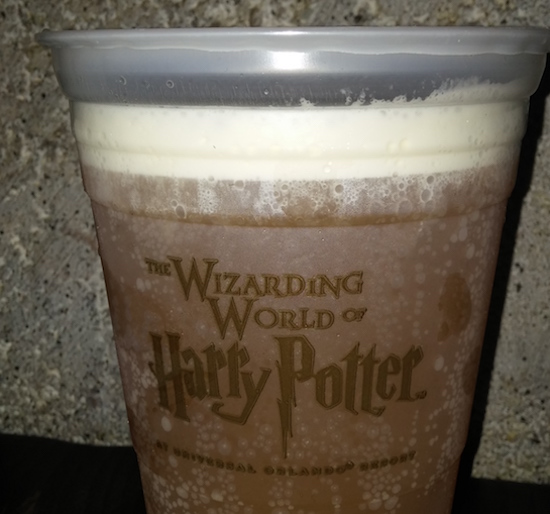 Anyone familiar with the world of Harry Potter knows that butterbeer is one of the favorite libations of the students at Hogwarts. We muggles can also enjoy a cold, frothy glass of this deliciousness at the Wizarding World of Harry Potter. Butterbeer is available at both Wizarding World locations –  Islands of Adventure and Universal Orlando Resort.
You can get butterbeer hot, frozen, or my favorite, chilled, and it can be purchased in a regular disposable cup or a collectible souvenir mug. It's sweet and creamy with a little bit of vanilla and butterscotch flavor. But even non-butterscotch lovers will enjoy sipping on this as you stroll through Diagon Alley or explore Hogsmeade. It's so good you'll want to lick the creamy foam from the bottom of your cup when it's empty.
No trip to the Wizarding World of Harry Potter would be complete without experiencing the magical frosty goodness of butterbeer. You'll see why Harry and his friends like it so much.
Laura creates lasting memories by planning customized vacations all over the world. Not only does she find you the BEST accommodations with the BEST value, but she will fill in all the blanks for you, all at no cost to you. Traveling is her passion! Passing that magic on to your family is what fuels that passion! If you are ready to save on your next vacation, book with Laura at Laura@DestinationsInFlorida.com.