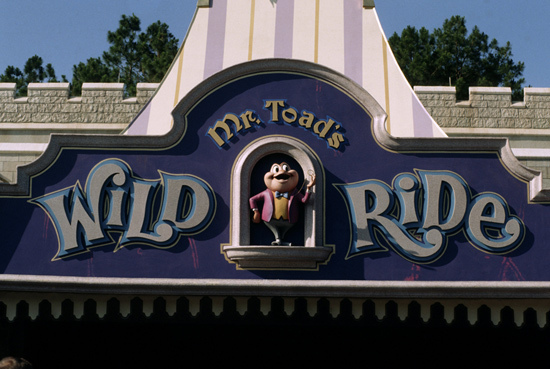 Mr. Toad's Wild Ride first opened at the Magic Kingdom Park in Walt Disney World back in 1971. It was one of the Magic Kingdoms opening attractions, but in 1998 it was replaced by the Many Adventures of Winnie the Pooh. This ride's story was based on Disney's adaptation of The Wind in the Willows.
Mr. Toad's Wild Ride features two different tracks. On Track One riders passed through the rural English countryside. After passing through a small room with several warning signs, guests made a turn into a central plaza where a police officer is signaling riders with his whistle. Guests then made a right turn into the courtroom as the judge declared Mr. Toad guilty. Then the vehicles entered several jail cells. After winding through the cells, guests emerged out into a dark scene, passing by a shootout between police and gunmen. Several of the police barriers then moved aside revealing a railroad crossing, complete with a ringing bell. The gate then moved aside, and then your car made a turn onto the tracks. The cars then traveled along the railroad tracks, until getting hit by a train.
Track Two passed through two scenes not seen in Track #1: Toad's trophy room and a Gypsy camp. After rounding the plaza, guests continued and entered Winky's Tavern. The cars then made a turn and guests could see the Weasels hiding out in the Tavern among the ale barrels. Following this, guests emerged into the night countryside. Passing by a small house, the vehicles reached a railroad crossing with ringing bell. This gate moved aside, and cars made a turn onto the railroad tracks until you are hit by a train. A door then opened and once again you are in Hell.

Barbara Roach is your Personal Travel & Cruise Concierge. I have been organizing travel for years. We know the where to find the best deals, what really constitutes "value" and how you can make your vacation dollar stretch, especially when it comes to planning travel with kids.??Regardless of your destination, my goal is to exceed your every expectation and deliver you to an enchanting vacation. I am here for you too – just a phone call away; before, during and after your travel. For information concerning Disney or any other destination, please contact me at 401-323-1294 or email me at barbararoach@destinationsinflorida.com.