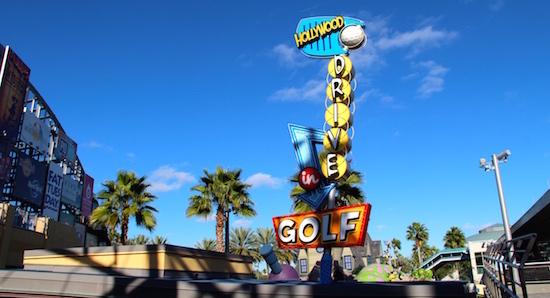 What does everyone do while on summer vacation?  Play miniature golf of course!   There are several great miniature golf courses in Orlando to choose from.
Top 5 Mini Golf Orlando
Winter Summerland : Winter Summerland is located right beside the Blizzard Beach Water Park on Walt Disney World Property.   This course is a favorite with children as it has a summer course with sand and beaches and a winter course with Santa and his elves.   My children love to play this course in the summer time because of its Christmas theme. 
Fantasia Gardens : Fantasia Gardens is Disney's second course located next to the Swan and Dolphin.  The miniature golf course is built after Fantasia, the Disney movie which merged animation with classical music pieces.   In addition to the miniature golf course, it has a more difficult course for more experienced golfers. The difficult course does not have the colorful obstacles but is truly a challenge for any golfer.  
Hollywood Drive In Golf : Hollywood Drive in Golf is located at Universal City Walk at Universal Studios Florida.   This location has two courses Sci-Fi and Haunted.   Don't let the names scare you away as the courses are not scary so young children will be able to play with no worries.   The Sci-fi course includes many scenes that throw back to our childhood sci-fi films and The Haunted Course is full of spooky ghosts and goblins.  
Congo River Golf : Located on I Drive is in the heart of restaurants and tourist activities, the draw of this course is that you get to feed alligators.   They do have an arcade as well.   While the course itself isn't as impressive as the others listed, the gator feeding is a draw to families with young kids.  
Pirate Cove : Pirate Cove is one of the most popular courses in the area as the obstacles are impressive and fashioned after pirates.    They have cannons that fire, a pirate ship, and many pirate flags and treasure chests.   There are two locations.  One location is on I drive and one is across the street from Downtown Disney.   
Kristi Gregory lives in Orlando with her husband and two boys.  Who better to plan a trip to Universal than a local who visits Universal multiple times a week?  Her clients enjoy insider tips, personalized itinerary planning, and attention to every detail of your trip.  Call Kristi at (859) 229-4840  or email to start planning your next vacation.