New Lounge Open at Disney Springs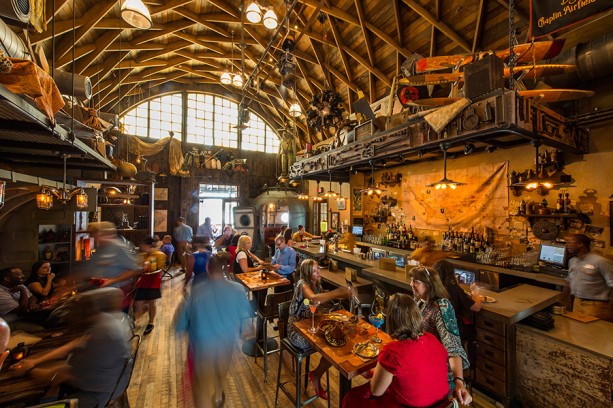 The latest themed Walt Disney World bar / lounge is now open at Disney Springs! Its eclectic décor includes everything from spare airplane parts to nostalgic postcards and antique maps, all a nod to the "Indiana Jones" films in which Jock Lindsey was Indy's pilot and sidekick.
Jock Lindsey's Hangar Bar is located on the waterfront at Disney Springs between Paradiso 37 and the BOATHOUSE. It's not a large space, so the interior has a cozy feel. The menu features appetizers and drinks inspired by Jock's world travels. The light fare and beverages are comically themed to events, icons and experiences we have enjoyed across all of the Indiana Jones films, including Dr. Elsa's She-Deviled Eggs; "Good" Dates stuffed with goat cheese, and Snack of Ra, which is a taste of Africa with salads and dips served with injera (bread) and naan crisps. And mixologists are having fun with the cocktails, from the Cool-Headed Monkey to The Scottish Professor.
Take a look around:

Jock Lindsey's Hangar Bar is open from 11:30 a.m. to midnight Sunday through Thursday, and until 1 a.m. Friday and Saturday. No reservations. Jock Lindsey's Hangar Bar does not accept the Disney Dining Plan.