Swim with Sharks Disney Typhoon Lagoon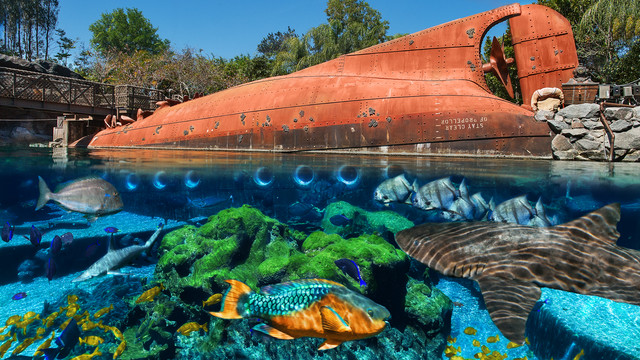 You can swim with sharks at Disney Typhoon Lagoon water park! Remember all those awesome sharks you saw on Shark Week on Discovery Channel? See some in real life with this fun adventure!
Shark Reef is free with your paid admission into Disney's Typhoon Lagoon. You get snorkel equipment and a life jacket (if you need it), a quick lesson on how to snorkel and then away you go to snorkel with sharks, rays and fish! It is amazing!
Jump in and swim with colorful tropical fish, stingrays and sharks at one of Typhoon Lagoon's most unique experiences. The water is cold though! Brave bracing 68-degree waters—that's how the fish like it—and hear only the sound of your own breathing as you get an eyeful of leopard and bonnethead sharks, stingrays and schools of blue tangs. (Think Dory from Disney•Pixar'sFinding Nemo!) An overturned sunken tanker with viewing portholes adds whimsy to the seascape while offering non-swimmers the opportunity to see undersea specimens without getting wet.
At Shark Reef, big kids, teens and adults can enjoy the exhilarating experience of snorkeling with minimal effort. Just put on your snorkel, mask and optional lifejacket, hop in and gently glide your way from one side to the other. All equipment for crossing Shark Reef is included with your park admission, at no additional charge. The reef is 10 feet deep after the initial drop-off point, so participating Guests must be able to float across, either on their own or with a lifejacket. Children under 10 years of age must be accompanied by an adult.
If you'd like a more in-depth exploration of Shark Reef, you can snorkel in a special area with even more marine life. Visit Hammer Head Fred's Dive Shop and ask about the SAS (Supplied-Air Snorkeling) system, available at an additional charge. No certification is required to participate.
Would you swim with sharks at Disney?