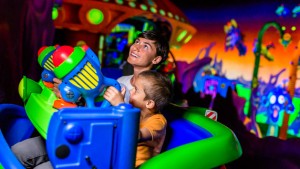 Buzz Lightyear's Space Ranger Spin is located in the Tomorrowland area of Disney's Magic Kingdom theme park. It is a fun and competitive shooting-gallery style ride for all ages. The ride is based on the Disney•Pixar Toy Story movies.
The storyline theme is the epic battle between the evil Emperor, Zurg and Buzz Lightyear. Zurg is stealing batters from toys to power a new weapon of destruction. Your job, as a Space Ranger is to fire lasers from your cannon to stop him.
Buzz Lightyear will give you a mission briefing as you board. The ride and most of the queue is indoors. You will enter a series of space-themed settings with glowing neon lights and targets with a "Z" insignia. There are robots, aliens and other villains to attack. Your scores are shown on a digital scoreboard in your space cruiser. Be prepared to outscore your friends as you spin your car 360 degrees and shoot! When you hit a target, your score will increase and you will see the flashing lights and beeping sounds. At the end of your mission, the you are given a Star Command ranking based on the points you score.
Buzz Lightyear's Space Ranger Spin is really a blast!  Make sure to secure a FastPass+ for it during your next Walt Disney World vacation.
Written by Sheri Morris, "Main Street Morris"   Sheri is proud grandmother with a keen eye for detail.  She specializes in Disney Travel for adults and RV travel.  Book your next vacation with Sheri at (804)405 5005 or at sheri@destinationsinflorida.com.