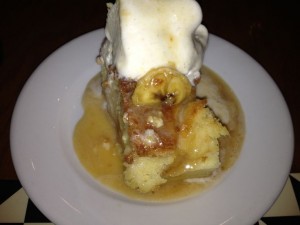 If you have ever visited 'Ohana at Disney's Polynesian Village Resort for dinner, you would remember the delicious dessert that was served at the end of your Hawaiian feast. If you are like me, you probably were too full to finish it. The 'Ohana Bread Pudding à la mode with Bananas-Caramel Sauce is one of those dishes that make you want to go back again and again! Today, I'm sharing the recipe with you, compliments of Disney Food Blog.
'Ohana Bread Pudding à la mode with Bananas-Caramel Sauce:
 Ingredients
BREAD PUDDING
5 eggs
3 cups whole milk
1/2 tsp salt
1/2 tsp nutmeg
1 1/2 cup sugar
8 cups French or 'Ohana breakfast bread
In bowl mix eggs, milk, salt, sugar, and nutmeg. Set aside.
2. Cut bread in medium (usually 2-inch) pieces and place on cookie sheet pan. Put in 350 degree oven.
3. Bake bread until lightly toasted: about 15 minutes. Remove bread and place in egg and milk mixture.
4. Place mixture in a greased 10-inch cake pan, and bake at 325 degrees for 1 hour.
5. Let stand 5 minutes
BANANAS FOSTER SAUCE
4 oz sugar
4 oz brown sugar
4 oz corn syrup
4 oz unsalted butter
1 cup heavy cream
1 tsp vanilla extract
1 cup spiced rum
1 cup banana slices
Combine sugar, brown sugar, corn syrup, butter, and half of heavy cream in a large pan. Bring to a boil and slowly add remaining heavy cream keeping mixture at a steady boil.
Add spiced rum and flambe.
Candy will brown slightly; cook 3 minutes until candy forms into a firm ball in cold water. Remove from heat and add vanilla. Add sliced bananas. Serve warm.
Written by Sheri Morris, "Main Street Morris"   Sheri is a proud grandmother with a keen eye for detail. She specializes in Disney Travel for adults and RV travel.  Book your next vacation with Sheri at 804 405 5005 or at sheri@destinationsinflorida.com.