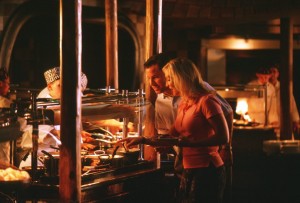 Boma-Flavors of Africa is located in Jambo House at Disney's Animal Kingdom Lodge resort. It is a wonderful table service dining experience that is a unique and delicious. There is something to please every taste bud at Boma! The restaurant is themed after an African marketplace with thatched roof carving stations, colorful decor and an open kitchen that features a wood-burning grill and rotisserie.
Lunch and dinner are served at side-by-side buffet stations at Boma. The menu is inspired by dishes from over 50 African countries. In addition to the tastes and textures of exotic African cuisines, traditional American favorites are included to make it very family-friendly. If you have special dietary requirements, let your server know and the chef will personally guide you to the foods that suit your needs.
During breakfast hours you can enjoy African pastries, made-to-order omelets, French toast bread pudding, corned beef hash, pancakes, carved meats including, turkey, ham and corned beef as well as an inviting display of fresh fruit. African dishes like Pap (maize porridge) and Chakalaka (spicy vegetable relish) are offered. Be sure to taste the Bobotie-a type of meatloaf with an egg based topping. It's really good.  A glass of their specialty blended fruit juice or a press pot of Kenyan coffee will start you off to a great Disney day!
The dinner hours are filled with more culinary delights with offerings that include roasted meats, grilled seafood and vegetarian dishes. The soup selection is amazing. My personal favorite is the Butternut Squash Soup. You will find assorted salads and freshly prepared mouth-watering desserts, including the famous Zebra Domes! There is a separate station with kid-friendly foods like chicken, mashed potatoes and macaroni & cheese. Boma-Flavors of Africa features a very large selection of beverages and cocktails. Why not try something a little different to go with your African-inspired meal?
Consider adding a meal at Boma-Flavors of Africa during your next Walt Disney World vacation.  It is an experience that will bring you back again and again!
Written by Sheri Morris, "Main Street Morris"   Sheri is a proud grandmother with a keen eye for detail. She specializes in Disney Travel for adults and RV travel. Book your next vacation with Sheri at 804 405 5005 or at sheri@destinationsinflorida.com.