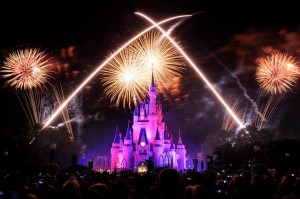 There is nothing more magical than to cap off a day of fun in Disney's Magic Kingdom theme park than the experience of their nighttime fireworks show, Wishes. Disney offers the best of the best with a spectacular show that will knock your socks off!
Wishes is performed most evenings but be sure to check the schedule before you arrive. One of the best places to watch is in the forecourt of Cinderella's Castle. You will have a good view of Tinker Bell as she takes flight overhead at the beginning of the fireworks display.
As the lights are dimmed and the storyline begins, Jiminy Cricket and the Blue Fairy are celebrating the power of believing. The show incorporates character narration along with a medley of treasured Disney songs. It starts out sweet and calm but turns a bit 'dark' when Maleficent, the Evil Queen and other Disney villains cause havoc. Of course, good triumphs over evil and wishes always come true in the end.  It's pure Disney!! Characters featured in the show include:
Jiminy Cricket
Pinocchio
Cinderella
Genie
Maleficent
Peter Pan
Ariel
Special effects and brilliant colors fill the evening sky with an impressive extravaganza that is unlike any other! The incredible musical score is synchronized with the rockets as they explode overhead, making and unforgettable evening that you'll not soon forget. The show is sweet, scary, happy and romantic – all mixed into one. If you see me there, you might just watch me shed a tear or two…
If you would like to experience Wishes in a special viewing area, be sure to secure a FastPass+ early. I would suggest that you linger afterwards and browse in the shops on Main Street as crowds fill leave the park in droves following Wishes. Do not miss Wishes during your next Walt Disney World vacation. There is no better way to end your Disney day!
Written by Sheri Morris, "Main Street Morris"   Sheri is proud grandmother with a keen eye for detail. She specializes in Disney Travel for adults and RV travel.  Book your next vacation with Sheri at 804 405 5005 or at sheri@destinationsinflorida.com.