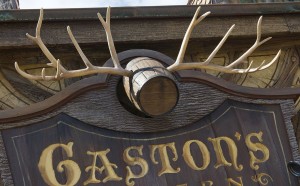 Gaston's Tavern is located in located in the New Fantasyland area of Disney's Magic Kingdom theme park.   It is a great place to order a manly sized snack and a cool, tasty beverage.
The décor at Gaston's is manly as well.  The main dining room is small and dim with wooden tables and stools. There is a huge portrait of the ever-cocky Gaston above the cozy fireplace with Gaston's large chair beside it. Various animals are mounted on the walls and you will notice the scoreboard from a game of darts between Gaston and LeFou. Antlers are everywhere! Be sure to look at the incredible chandeliers.  A few tables and chairs are available outside as well.
While the menu at Gaston's is small, the items served are very popular!  It basically consists of the following: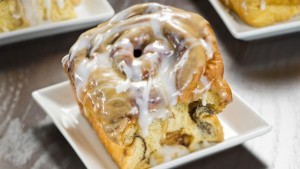 Pork Shank
Warm Cinnamon Roll
Chocolate Croissant
Mixed Vegetables with Dip
Sliced Apples with Caramel Sauce
Mixed Fruit Cup
Hummus & Chips
LeFou's Brew
Assorted Non-Alcoholic Beverages
The Pork Shank is absolutely gigantic and the Cinnamon Roll is massive as well!  It's easily shared between two or three people as a snack.  Perhaps the biggest draw to Gaston's Tavern is LeFou's Brew. This well-loved icy concoction is very sweet and will give you 'brain-freeze' if you drink it too fast!  It contains Frozen Apple Juice with a hint of Toasted Marshmallow and topped with All-Natural Passion Fruit-Mango Foam.  You can purchase it in a Souvenir Goblet or Stein if you wish. You can't leave the park without trying it!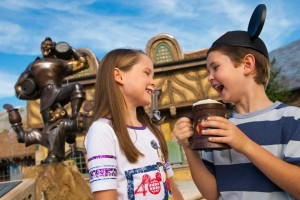 Gaston's Tavern is a wonderful part of Belle's Village in New Fantasyland. Consider a quick stop for a snack or a meal at Gaston's Tavern during your next Walt Disney World vacation.
Written by Sheri Morris, "Main Street Morris"   Sheri is a proud grandmother with a keen eye for detail. She specializes in Disney Travel for adults and RV travel.  Book your next vacation with Sheri at 804 405 5005 or at sheri@destinationsinflorida.com.