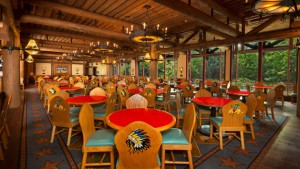 If you would like to enjoy an extra-fun meal while vacationing at Walt Disney World, consider Whispering Canyon Café at Disney's Wilderness Lodge. This table service restaurant is just a short boat ride away from the Magic Kingdom theme park and is a great place to enjoy a nice meal with a few shenanigans!
The western-themed Whispering Canyon Café is open for Breakfast, Lunch and Dinner. The menu is fairly extensive and heavy on the meats – yet offers something good for everyone, including those with special diets. The Banana Bread French Toast is great for breakfast and the All-You-Care-to-Enjoy skillets are very popular during each meal. Other favorites include chicken, ribs, steaks and fish with western-style sides. If you enjoy milk shakes, this is the place for you as they are bottomless. Be sure to try the Apple-Caramel pie… Yum!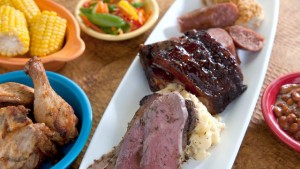 This restaurant is not very quiet as the name might suggest as it can be quite rowdy at times! The servers have a reputation for some hilarious antics and are very entertaining. We were greeted by our wise-cracking server with a fist full of straws who later brought us a tray full of ketchup bottles! You just never know what they might say or do so be careful what you ask for. Kids are entertained with sing-alongs, Lincoln logs and hobby horse races.
Take a break in the middle of a hot, busy day at the Magic Kingdom and enjoy a meal at Whispering Canyon Café.  You'll have a rootin' tootin' great time and will surely leave with a full belly and a smile!
Written by Sheri Morris, "Main Street Morris"   Sheri is a proud grandmother with a keen eye for detail. She specializes in Disney Travel for adults and RV travel.  Book your next vacation with Sheri at 804 405 5005 or at sheri@destinationsinflorida.com.