Casual Eats in an Elegant Setting
As you stroll down the middle of Main Street U.S.A. at Disney's Magic Kingdom Theme Park, right around the corner from the Plaza Ice Cream Parlor is the Plaza Restaurant. The Plaza is a smaller table service restaurant that is often overlooked. However, it can be a great choice for a tasty lunch or dinner with reasonable prices.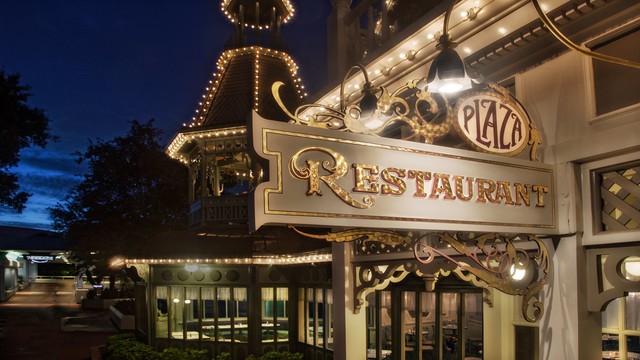 The inside of Plaza is decorated with Victorian touches with an Art Nouveau theme and comfortable seating. It is crisp, clean, cool and relaxing….a nice place to sit back and enjoy a break from the hustle and bustle of your day at the park.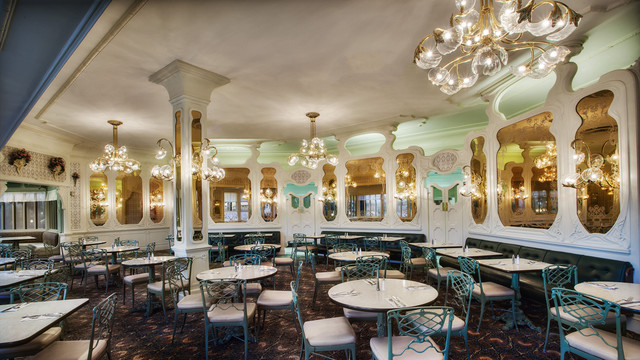 The restaurant is open for lunch and dinner and the menu consists mainly of deli-style sandwiches and burgers. You can also select a delicious Strawberry Chicken Salad or a Meatloaf Meal, complete with garlic mashed potatoes, gravy and corn. They also have a wonderful Vegetarian Sandwich made with fresh mozzarella, hummus and veggies. While the dessert menu features sundaes and ice cream, I would strongly suggest a slice of New York Style Cheesecake served with strawberries. Yum! The Kids' Meals are pretty standard with Chicken Strips, Cheeseburgers, and Grilled Cheese but the drink and dessert is included.
The Plaza is a very good choice when paying out-of-pocket for a table service meal but may not be the best selection if you are on a Disney Dining Plan since the prices are so reasonable. The prices for sandwiches and burgers are not much more than what you would pay at a counter service dining location.
Consider making a reservation at the family-friendly Plaza Restaurant during your next Disney World vacation. You will enjoy a delightful meal in pleasant surroundings with a view of Cinderella's Castle. You might even get a visit from the Mayor of Main Street U.S.A.! Who could ask for anything more?
Written by Sheri Morris, "Main Street Morris"   Sheri is a proud grandmother with a keen eye for detail. She specializes in Disney Travel for adults and RV travel.  Book your next vacation with Sheri at 804 405 5005 or at sheri@destinationsinflorida.com.