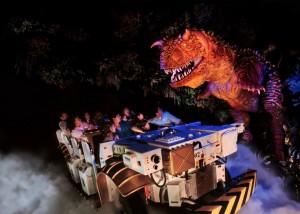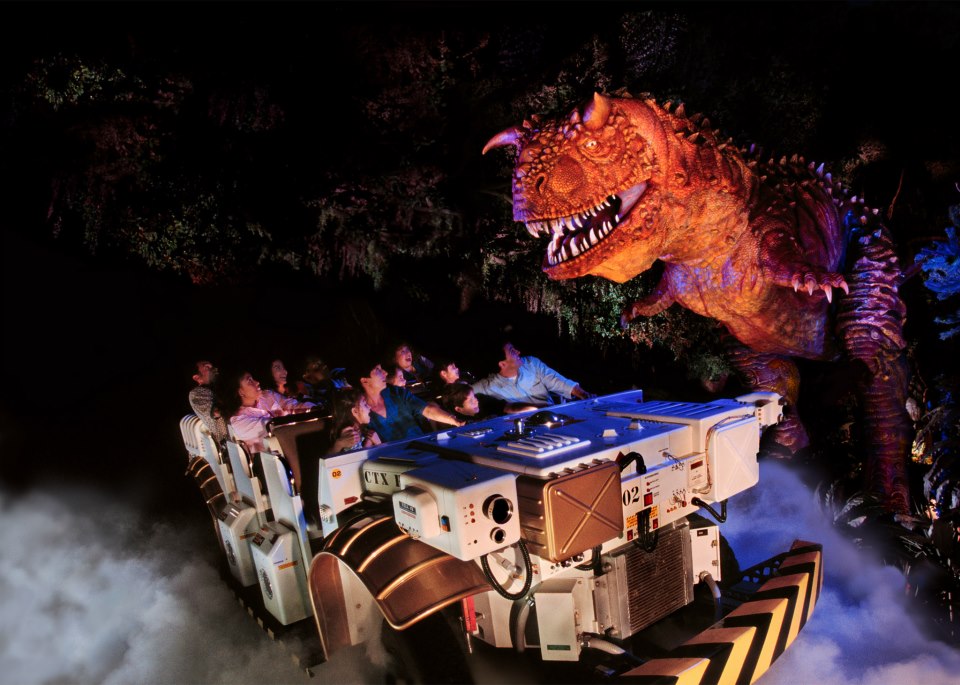 If you are looking for thrills and chills during your visit to Disney's Animal Kingdom Theme Park at Walt Disney World, Dinosaur may just be the perfect fit! You will find Dinosaur in the DinoLand U.S.A section of the park. It is a loud, frightening indoor attraction and riders must be at least 40 inches tall to ride.
As you enter The Dino Institute, you will find real fossils that date back to the Dinosaur age. There are exhibits with narration by Bill Nye (the Science Guy) and a huge skeleton of a Carnotaurus, one of the carnivorous dinosaurs. It's a nice, cool place to cool off and let younger children and the faint of heart wait while the adventurous experience the scary attraction, Dinosaur!
After a brief introductory video, you will board the 12 seat CTX Time Rover which is your vehicle for the trip back in time to the Dinosaur Age.  As the story goes, you are recruited to rescue an Iguanodon dinosaur from extinction and return back to present time. The quest is to find the Iguanodon and return back to the present time before a giant meteor hits the earth.
Your Time Rover travels through a dark forest in search of the dinosaur. The ride is rough and bumpy with twists and hairpin turns along the way, not to mention the scary creatures around every corner! You might find yourself hiding your eyes as you speed by a creepy Alioramus, a frightful Velociraptor hunting for food and a Styracosaurus. Look out for the Cearadactylus looming overhead! Meteors are crashing about and the end of your mission is near. Hang on to your hat!
Dinosaur is not for anyone with back problems or those afraid of the dark but it is the ultimate blast to the past joyride for thrill-seekers. Will you dare to ride it during your next vacation to Disney's Animal Kingdom?
Written by Sheri Morris, "Main Street Morris"   Sheri is a proud grandmother with a keen eye for detail. She specializes in Disney Travel for adults and RV travel.  Book your next vacation with Sheri at 804 405 5005 or at sheri@destinationsinflorida.com.