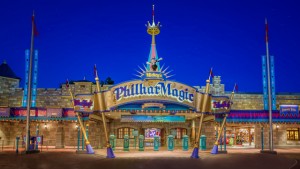 Disney's Magic Kingdom Theme Park is filled with shows and attractions for the entire family. One of my favorite shows is Mickey's PhilharMagic, located in Fantasyland. This 12 minute attraction features a lively 3D movie on a 150 foot wraparound screen that is filled with laughter, music and surprises!
Pick up a pair of "opera glasses" as you walk into the 486-seat theater and put them on when the lights go down.  The show begins with Donald Duck sleeping. Mickey Mouse wakes Donald and rushes offstage to get ready for the show. Donald Duck picks up the conductor's baton and puts on Mickey's Sorcerer Hat. Things start to get out of control and Donald goes into a 3D dream sequence filled with a host of Disney animated characters from popular films.
Donald Duck's dreams take you into a world of fantasy with music from classic Disney movies such as:
"Be Our Guest" from Beauty and the Beast
"Part of Your World" from The Little Mermaid
"I Just Can't Wait To Be King" from The Lion King
"You Can Fly" from Peter Pan
"A Whole New World" from Aladdin
Children (and adults!) will enjoy reaching out for the objects that "pop out" from the screen with the 3D technology. Fun, special effects such as sprinkles of water and sweet aromas are added to immerse you in the settings.  Be sure to look behind you at the end to see what happens to Donald Duck!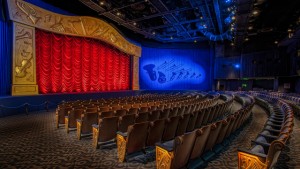 The theater is air-conditioned with comfortable seats. It's a great place to retreat from the afternoon heat or thundershower. Mickey's PhilharMagic is a delightful concert for everyone that is not to be missed on your next visit to the Magic Kingdom at Walt Disney World.
Written by Sheri Morris, "Main Street Morris"   Sheri is a proud grandmother with a keen eye for detail. She specializes in Disney Travel for adults and RV travel.  Book your next vacation with Sheri at 804 405 5005 or at sheri@destinationsinflorida.com.