Dine with Sharks and Fish at SeaWorld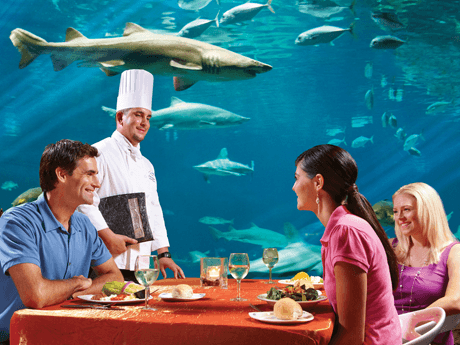 If you ever wanted to dine with sharks and fish, Sea World Orlando has the ultimate restaurant for you! The restaurant is called Sharks Underwater Grill. You can enjoy a fascinating view in an upscale, signature full-service restaurant that puts world-class entrees on your plate and a window into the world of sharks before your eyes. Let the skilled chefs, courteous staff and mesmerizing sharks make a memory for you.
Sharks Underwater Grill has been recognized amongst the best of the best restaurants in Orlando. Receiving such awards as the 2013 Silver Spoon Award from Orlando Life Magazine and Outstanding Ratings in the Zagat 2014 Orlando Restaurant Survey.
Here is just a sampling of what you will find on the menu:
Appetizers
Drunken Mussels
Chilled Jumbo Shrimp Cocktail
Caesar Salad
Sharks Signature Salad
Lobster Bisque
Entrees
Cioppino
Grilled Mahi Mahi
Filet Mignon
Snow Crab
Seasonal Catch
Seafood Alfredo
Seafood Paella
Dessert
Flourless Chocolate Cake
Chef Selected Crème Brûlée
Apple Galette
Shark Bites
Children's Menu
Jumbo Grilled Hot Dog
Shark's Chicken Tenders
Peanut Butter and Jelly Sandwich
Mahi Mahi, Fried or Grilled
Cheese Stuffed Ravioli with Homemade Red Sauce
Cash Bar
Premium and Domestic Beers available
Specialty Wines by the bottle or glass
Full Cocktail bar
Specialty Drinks
Note: Menu subject to change.