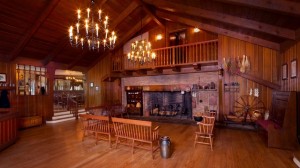 Your family can enjoy a traditional Thanksgiving feast any time of year at Liberty Tree Tavern at Disney's Magic Kingdom theme park!  Located in the Liberty Square area of the park, Liberty Tree Tavern is a quiet refuge in a traditional colonial-style setting, away from the hustle and bustle of the park.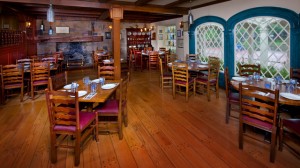 The restaurant is filled with decor that will take you back to the days of Colonial Williamsburg, Virginia. As you step into the wood paneled lobby, there are beautiful, large candelabra chandeliers and fireplaces with portraits and artifacts from American heroes. Your family will be formally announced and escorted to one of six colonial dining rooms featuring prominent figures in American History:
Thomas Jefferson
John Paul Jones
Benjamin Franklin
Paul Revere
Betsy Ross
George Washington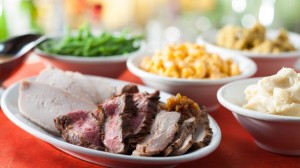 Traditional fare can be ordered from a menu for lunch. Try the tavern keeper favorite, the New England Pot Roast or the lighter Colony Salad.  For a Thanksgiving meal at lunchtime, the Patriot's Platter includes turkey, herb stuffing, mashed potatoes and a vegetable. All are delicious! Dinner is an all-you-care-to-eat feast featuring a family-style traditional Thanksgiving dinner! It comes with roast turkey, carved beef, pork tenderloin, stuffing, mashed potatoes, macaroni and cheese along with seasonal vegetables. Dessert is also included for dinner-if you have room for it!
Reservations are highly recommended and can be made up to 180 days prior to your visit. Step back in time and make sure to visit to Liberty Tree Tavern and gobble up a memorable feast during your next Walt Disney World vacation!
Written by Sheri Morris, "Main Street Morris"   Sheri is proud grandmother with a keen eye for detail. She specializes in Disney Travel for adults and RV travel.  Book your next vacation with Sheri at 804 405 5005 or at sheri@destinationsinflorida.com.