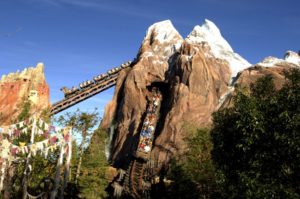 Expedition Everest is a thrilling roller coaster ride located in the Asia section of Disney's Animal Kingdom Theme Park at Walt Disney World in Central Florida. The mountain peak is a little less than 200 feet tall, the tallest of all the mountains at the Disney parks! Thrill seekers will delight on their journey aboard a runaway train through the mountains of the Himalayas.
Disney Imagineers worked hard to create a very detailed experience for this attraction. The design and architecture were chosen to immerse you in a setting that is incredibly realistic. As you enter the Tibetan-style building at the foot of Mt. Everest, you will see the booking office of Himalayan Escapes – Tours and Expeditions. After wandering past a temple and general store, you will be able to explore a museum dedicated to the study of the Yeti, the Abominable Snowman.  Be sure and take time to explore the artifacts, pictures and manuscripts.
Once you've climbed aboard your 34 passenger steam-engine tea train, hold on to your hat! As you climb the incline, you will get a nice view of the park. When you reach the top, you'll go through high speed twists and turns through the mountain – faster and faster until…Screech!  Your train comes to a sudden halt. In front of you is a twisted and broken track. Suddenly, you will start flying backwards through the dark mountain!  Along the way, there's the shadow of …you guessed it, the fierce and mighty Yeti. The train stops again and begins to fly forward, plummeting down an 80-foot drop and through more twists and unexpected turns.
While Expedition Everest is a fairly tame roller coaster ride, some parts may be frightening for younger children. It does not go upside-down. Guests must be 44 inches tall to ride.
Are you ready to take on the Yeti during your next Walt Disney World Vacation?
Written by Sheri Morris, "Main Street Morris"   Sheri is proud grandmother with a keen eye for detail. She specializes in Disney Travel for adults and RV travel.  Book your next vacation with Sheri at 804 405 5005 or at sheri@destinationsinflorida.com.