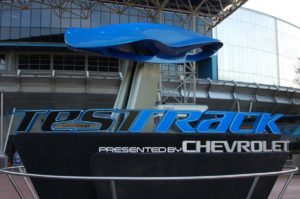 If you are planning a visit to Epcot Center on your next Walt Disney World vacation, you will want to snag a FastPass+ time to experience Test Track located in Future World.   This ride is a multisensory experience as you will create your own virtual concept vehicle before boarding a high-octane "SimCar" and speed through a thrilling series of hills, hairpin turns and straightaways.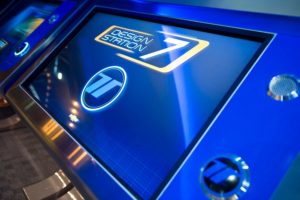 The first part of the queue is the Chevrolet Design Center where you will tap your Magic Band and design your own car that will be tested on the sim-track. It's fun to design your own virtual custom concept vehicle based on the following test criteria:
Capability (handling)
Responsiveness (maneuverability)
Efficiency (fuel-saving and environmentally friendly)
Power (speed)
After adding finishing touches to your vehicle, you'll move to the second queue that leads to the boarding area. Touch your Magic Band again to upload the car design to your vehicle.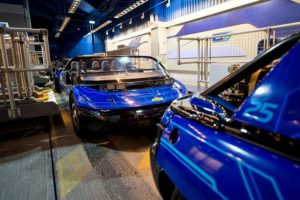 Buckle up tight in your 6-passenger simulation car and get ready to undergo four different tests: capability, efficiency, responsiveness, and power. Discover how your vehicle performs as you speed through some surprising obstacles with a little rough terrain along the way. You'll fly through straight-aways, experience inclement weather and banks with 50-degree angles and climb hills up to 3-stories high. Your ride culminates with an exhilarating test of speed up to 65 mph!
When your ride is over, you can see how well your vehicle scored during the test drive and participate in even more interactive experiences with your vehicle design.
Showroom Showoff! – Make a 15-second commercial of your design and then email it home to share with friends.
Give It a Spin! – Steer your vehicle over challenging terrain, through a variety of obstacles and conditions at this smaller, virtual te st ground. Especially fun for kids!
Photos! – Pose with a Chevrolet dream car or your concept vehicle against a dramatic backdrop, underwater scene or lunar landscape.
Test Track is so much fun! You'll want to ride again and again on your next Walt Disney World vacation.
Written by Sheri Morris, "Main Street Morris" — Sheri is proud grandmother with a keen eye for detail. She specializes in Disney Travel for adults and RV travel.  Book your next vacation with Sheri at 804 405 5005 or at sheri@destinationsinflorida.com.