Hollywood Studios at Walt Disney World is chock full of excitement! Thrill seekers and coaster lovers over 48 inches tall will definitely get their fix as they roll away in the dark on a stretch limo on this attraction.  It is located at the end of Sunset Boulevard near the Tower of Terror. You can't miss the 40 foot electric guitar that adorns the front of the attraction!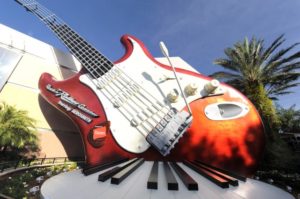 As with all Disney attractions, there is a story and a theme!  So the story goes – You're touring the G-Force recording studio where the band, Aerosmith is finishing a recording session. The band's manager tells the group that they are late for a concert and the band invites you to accompany them. The fun begins when you hop into a stretch limo and hang on as you blast off, from 0-60 miles per hour in 2.8 seconds! As you speed through night scenes of Hollywood, you will experience three different inversions. There are 2 loops and a corkscrew that will blow you away!
One of the best parts of Rock 'n' Roller Coaster is the soundtrack. Your stretch limo is outfitted with 125-speaker, 24 sub-woofer, 32,000 watt audio system.  Since each limo plays different Aerosmith songs, your trip will be different each time you ride! Aerosmith songs may include:
"Walk This Way"
"Dude (Looks Like a Lady)"
"Sweet Emotion"
"Back in the Saddle"
Additionally, the classic tune "Love in an Elevator" has been customized to "Love in a Roller Coaster" specifically for this attraction.
Be sure to include Rock 'n' Roller Coasteron your next visit to Disney's Hollywood Studios for a rocking good time!
Written by Sheri Morris, "Main Street Morris"   Sheri is proud grandmother with a keen eye for detail.  She specializes in Disney Travel for adults and RV travel.  Book your next vacation with Sheri at (804)405 5005 or at sheri@destinationsinflorida.com.