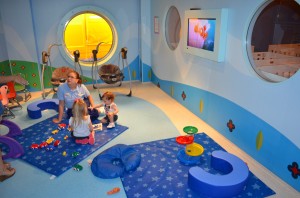 Disney Cruise Line loves guests of all ages. Babies are welcome onboard and have their own special spaces on each cruise ship. It's a Small World Nursery is the baby hot spot on the Disney Dream, Disney Fantasy, and Disney Magic. Flounder's Reef Nursery is located on the Disney Wonder. Babies enjoy story time, arts and crafts, and lots of other fun activities in the nursery. Parents can enjoy some time in the adult only areas or take a shore excursion while trained counselors look after their babies/toddlers.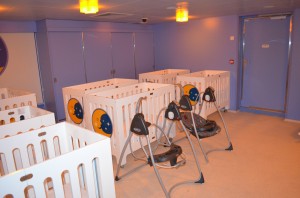 The nursery costs $9 per hour for the first child and $8 per hour for additional children in the same family. Reservations can be 75-120 days before your cruise (based on Castaway Club level). You can also make reservations once you're onboard if space is available. Effective July 18, 2014, the minimum age to sail aboard the Disney Cruise Line ships will increase from 12 weeks to 6 months of age on most itineraries for all sailings after January 1, 2015. Babies must be 1 year of age for Transatlantic, Hawai'i and Panama Canal itineraries.
Written by Shante Carson — Shante is a Disney Cruise Expert with over ten cruises taken on the Disney Dream, Disney Wonder, Disney Magic, and Disney Fantasy.  Bon Voyage!  Shante is ready to help you plan your magical Disney Cruise vacation. Book your next vacation with Shante at 252-917-0497 or shante@destinationsinflorida.com.