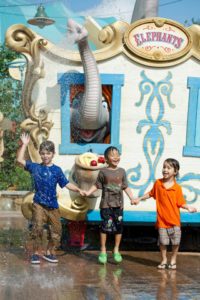 While most of us enjoy a warm, sunny day, we're often unprepared for the heat and humidity of Central Florida during most months of the year. Here are some of my favorite ways to stay cool while visiting Walt Disney World.
Avoid the mid-day sun. Plan to visit the parks early in the day. You will enjoy the cooler temperatures and avoid the crowds of the afternoon. Take a break at your resort and return later in the evening when the sun is less intense.
Stay hydrated! Be sure to drink plenty of water. Avoid alcohol and caffeine as they can dehydrate you. Ice water is free at any Disney counter. You might want to bring something to flavor it a bit.
Carry a misting fan. These little items can be invaluable. You really don't need one for everybody in the family, just carry one and pass it around!
Visit your resort swimming pool or better yet, a Disney Water Park! The Water Park Fun & More ticket option added to your vacation package is a perfect choice!
Take advantage of the many splash & play locations at the parks and Downtown Disney. A favorite is the Casey Jr. Splash 'N' Soak Station in New Fantasyland at the Magic Kingdom Park!
Choose attractions with indoor queues during the hottest part of the day. Enjoy one of the many shows in air conditioned comfort.
Go shopping or visit one of the Disney Resort Hotel lobbies.
Stay at the park if an afternoon rain shower pops up.  Crowds will diminish and the rain will cool you down!
Wear lightweight, loose clothing in light colors. Dark colors absorb heat from the sun.
Take your time and walk slower. Don't work up a sweat! You will enjoy the sights and sounds of the park better if you pace yourself.
Treat yourself to a Mickey Bar, Dole Whip or other frozen treat – a no-brainer!
What are your favorite ways to cool off while visiting Walt Disney World?  Feel free to share your suggestions!
Written by Sheri Morris, "Main Street Morris"   Sheri is proud grandmother with a keen eye for detail.  She specializes in Disney Travel for adults and RV travel.  Book your next vacation with Sheri at (804)405 5005 or at sheri@destinationsinflorida.com.