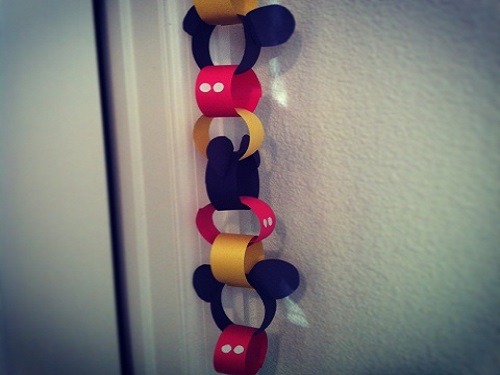 Disney World Tips:  Countdown to Vacation Chain
Disney World tips are always one of my favorite parts of planning a Disney World vacation.  I have a fantastic tip for you today!  You just booked your family vacation to Walt Disney World, so now what? Disney World trips are usually booked in advance. Now you have a wait and your kids are impatient.  So, being mom I try to make the wait and the anticipation fun leading up to our trip.  There are some easy things you can do to engage your children and keep them excited about your upcoming trip to Disney World. One thing we do is make a Disney Countdown Calendar.  What is that you say?  It is a way to visually count the days until your next trip to Disney World.
You can make your countdown as simple as you want.  One of the simplest ideas is to make a paper chain and take off a link per day until it is time for your Disney World vacation to begin.  You can even jazz up the paper chain by maybe using Mickey Mouse colors like red, yellow black and doing a pattern or just make a simple chain using any paper you and colors you want.
My kids are a little older, so I am trying to get a little more sophisticated.  This year when it gets a little closer to our scheduled trip in December I will be doing Disney World countdown trivia.  Every day for two weeks prior to our trip my kids (7 and 10 years old) will have to answer a different trivia question.  These won't be easy and may even require research but with each question they answer will be a prize leading up to our trip.  The prize will be things they can take on the airplane to amuse themselves.  Small things like a pen or a pad of paper all of which I can find in the dollar store.  I know several people who have done this with success and I am eager to try it.  To bad our next trip isn't until December 2014 so I have a little bit of a wait.
Join me each week as I give you fun Disney World tips leading up to your vacation. Stay tuned for next week when I blog about making and using a family savings jar for your next vacation.  It is a great way to get your kids involved and for them to save up to buy their very own souvenir.
Written by Lori Wall:  Lori is a long time Disney World fan!  She has continued her love of Disney Destinations with her own family.  She has also learned how to travel on a budget to maximize her vacation!  Lori is an agent with Destinations to Explore/Destinations in Florida, An Authorized Disney Vacation Planner.  Contact Lori at (845) 698- 0102 or request a price online today.