The Haunted Mansion is one of the original major attractions at Walt Disney World. The wait can sometimes be long so Disney installed an interactive queue in 2011 to help guests pass the time and have fun as well! The queue is inspired from characters that are inside the Haunted Mansion.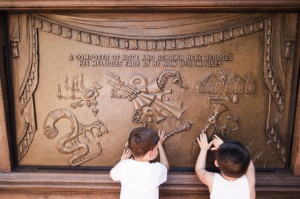 Kids and adults will have fun interacting with the musical crypt, a water-squirting tomb, a hands-on library and a ghost writer while waiting to enter the Haunted Mansion. The hands-on experiences that are exclusive to Walt Disney World Resort include:
The Musical Crypt Touch any of the embossed musical instruments on this creepy metal crypt to hear a haunted tune mysteriously play. Several people can play here at the same time!
Sepulcher of the Sea Captain Water sprays, leaks and bubbles up from this age-old tomb as the Captain inside sings a long-lost tune. You will have a blast watching the unsuspecting 'victim' get sprayed with the mist from his sneeze!
Tomb of the Posthumous Poetess Words inexplicably appear upon the tomb of Prudence Pock. Can you help her overcome a deadly dose of writer's block?
The Secret Library Push in the books that intermittently pop out at the haunted bookcase. It also includes a cryptogram for you to decipher but it's difficult and often overlooked. You most likely just enjoy playing 'whack-a-mole' with the books as they pop out!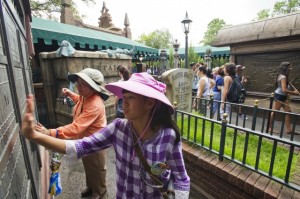 Be sure to read all of the comical tombstones as you explore the graveyards along the way.  Don't miss the little details as you begin your journey toward the Haunted Mansion during your Disney World vacation.
Written by Sheri Morris, "Main Street Morris" — Sheri is proud grandmother with a keen eye for detail. She specializes in Disney Travel for adults and RV travel.  Book your next vacation with Sheri at 804 405 5005 or at sheri@destinationsinflorida.com.