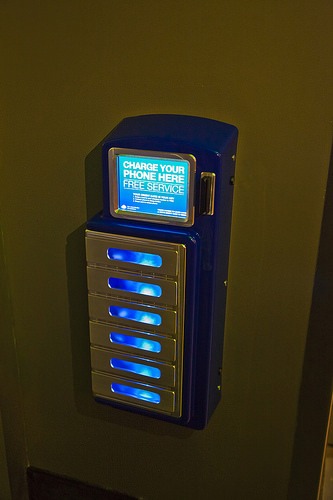 Disney is testing a free service to help guests charge their mobile phones at the Magic Kingdom Theme Park at Walt Disney World. The charging stations are currently available for use in Tomorrowland.
With the increased use of smartphones and families using the My Disney Experience app while in the parks to check wait times and make Fastpass+ selections, this is a welcome addition to the park.  A limited number of secure lockers are located inside Cosmic Ray's Starlight Café (near the Fantasyland entrance) and the Tomorrowland Light & Power Company (Space Mountain shop, near the D-Tech offerings).
Here's how it works:
The Guest must swipe a credit card to begin. This is a free service, and the Guest's credit card will not be charged.
The credit card simply acts as a key to unlock the charging chamber.
The Guest follows the prompts on a touch screen to choose their mobile phone type. This service is available for a variety of devices, including Android, iPhone and Blackberry.
The Guest connects their mobile phone and closes the chamber door. A red light indicates that the phone is charging. When the battery is nearing full charge, the chamber light turns green.
The Guest swipes the same credit card to unlock the chamber door and retrieve their phone.
Only one device may be connected within a chamber at any given time.
The charging chambers cannot accommodate electronic devices larger than a phone – A tablet will not fit!
Empty chambers glow with a blue light.
This service is a test and will continue through mid summer. We are hoping that more charging stations will be added so guests can leave their phone while enjoying an attraction and easily retrieve their charged phone later. Check it out during your next visit to the Magic Kingdom!
Written by Sheri Morris, "Main Street Morris" — Sheri is proud grandmother with a keen eye for detail. She specializes in Disney Travel for adults and RV travel.  Book your next vacation with Sheri at 804 405 5005 or at sheri@destinationsinflorida.com.