Seven Dwarfs Mine Train Opening Date – May 28, 2014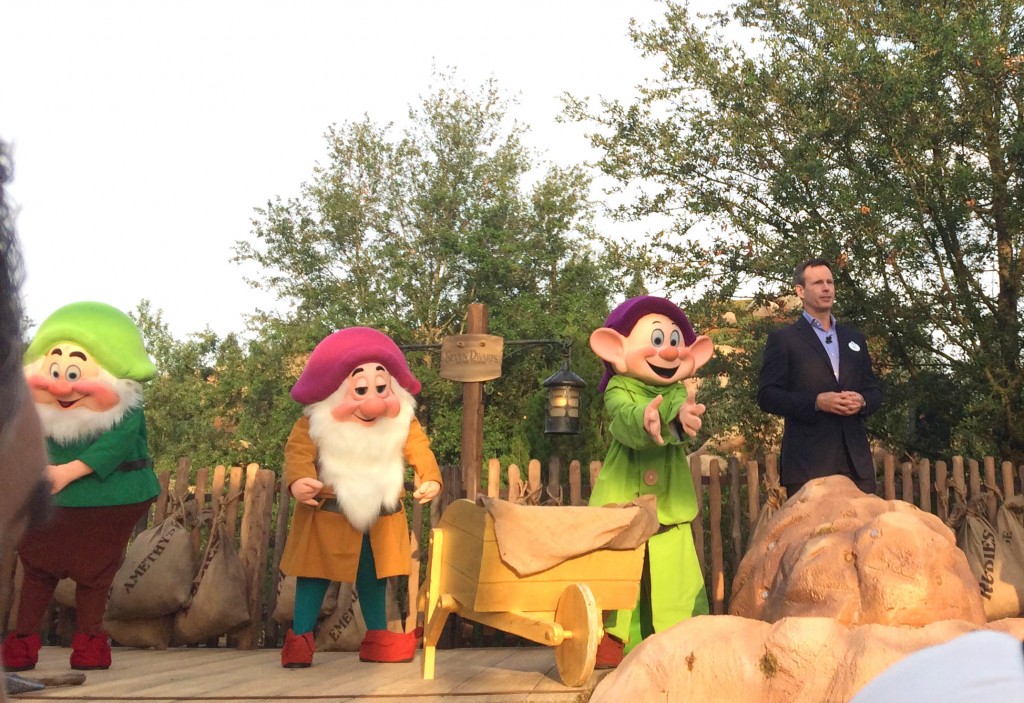 This morning, May 2, a short dedication ceremony was held for the Seven Dwarfs Mine Train attraction at Magic Kingdom.  Walt Disney World Parks and Resorts Chairman Tom Staggs announced that the "crowning jewel" of New Fantasyland, the Seven Dwarfs Mine Train opening date will officially be May 28.
All of The Seven Dwarfs and Snow White were on hand to commemorate the special occasion. Staggs spoke about the family-style coaster, explaining that it features an innovative new ride system that allows cars to swing back and forth as they travel down the track. The cars are even designed to reflect similar vehicles that appear in the film, handmade of wood by the Dwarfs, shaped by an axe, and used to haul rocks and jewels.
Fittingly, a special golden axe was used jointly by Dopey and Snow White on special rock that triggered special effects including the lighting and twinkling of "diamonds" within the rock and a launch of some diamond shaped confetti!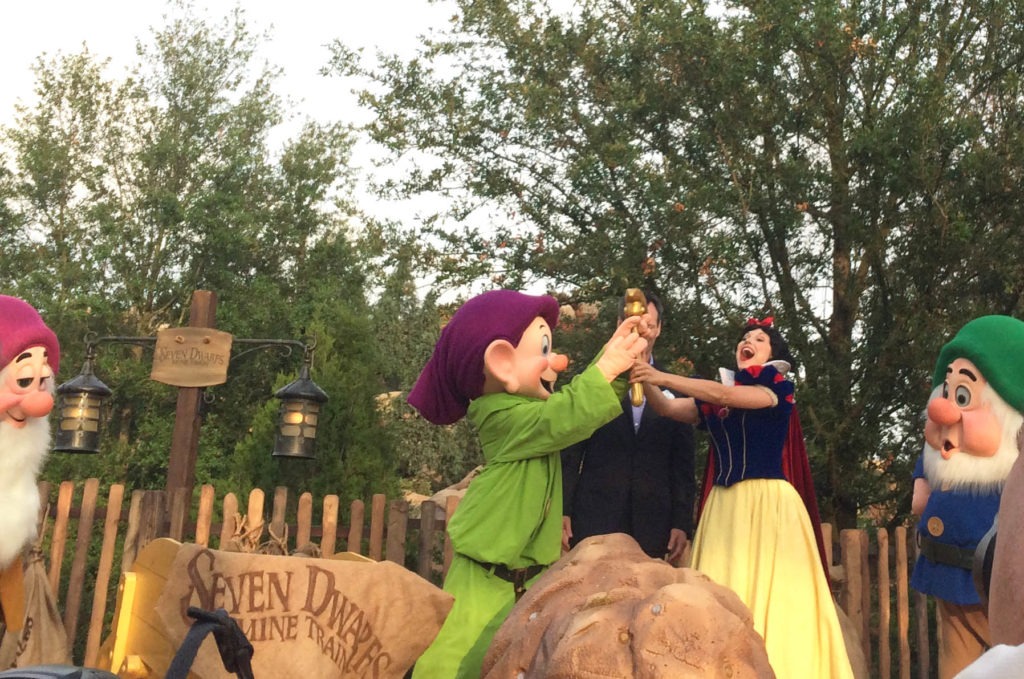 There ceremony was short, but sweet and we enjoyed attending! For those who could not attend in person, the Disney Parks Blog had broadcast the event live online! If you missed that, you can see our video below.
Here are some facts about the Mine Train Ride:
Height Requirement: 38 inches
Fastpass+ is available
Queue has an interactive game
Each mine car swings independently
Most advanced and charming Audio-Animatronics Disney has ever created
Music from the film classic incorporated
Scenes include Snow White, the Seven Dwarfs and playful forest critters
According to Imagineer Dave Minichiello on the Disney Parks Blog: "The Mine Train is developed as a family attraction, so the majority of the family should be able to ride. The height restriction is 38 inches." Dave also said, "It's thrilling but it also combines the best of our classic dark rides. You go both interior and exterior in this attraction. There are some classic Disney dark ride scenes."
See ya at the Magic Kingdom on May 28th!