The Tree of Life is located on Discovery Island, the park hub of the Animal Kingdom Theme Park at Walt Disney World.  The park opened on April 22, 1998 – Earth Day. The Tree of Life is a sight to behold that serves as a towering icon for the park and can be seen from miles around.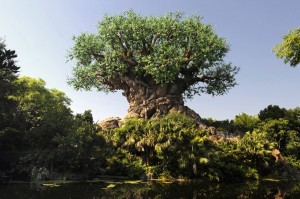 This unique, majestic tree is 145 feet tall and 50 feet wide at the base.  When viewed from afar, it looks like a regular tree but as you approach it, you can see the animals that are intricately sculpted into it.  An oil rig was used as the skeleton for the trunk because it is capable of holding the weight of the massive structure and can stand up to hurricane weather.
A team of Disney Imagineers and international artisans worked full-time for 18 months to create the detailed animal carvings in the trunk and roots of the tree. There are over 300 animals including:
Lion
Deer
Monkey
Pelican
Rhinoceros
Hippopotamus
Bear
Eagle
Tortoise
Scorpion
Dolphin
You can take a walk through the Discovery Island Trails that encircle the tree if you would like to have a close-up view of the animal carvings. On these paths, you will also enjoy other live animals including flamingos, tortoises and kangaroos in a peaceful setting.
The Tree of Life is topped with almost 103,000 transparent leaves in five shades of green that actually blow in the wind! A theatre is located inside the root system. It features a slightly-scary, super-funny 3-D attraction called It's Tough to be a Bug! featuring Flik and Hopper from the Disney Pixar film A Bug's Life. It's an appropriate attraction for the Tree of Life, providing a humorous view of life in the animal kingdom.
Take time to enjoy the details on the Tree of Life during your next visit to Disney's Animal Kingdom.  You might even see a hidden Mickey!
Written by Sheri Morris, "Main Street Morris" — Sheri is proud grandmother with a keen eye for detail. She specializes in Disney Travel for adults and RV travel.  Book your next vacation with Sheri at 804 405 5005 or at sheri@destinationsinflorida.com.