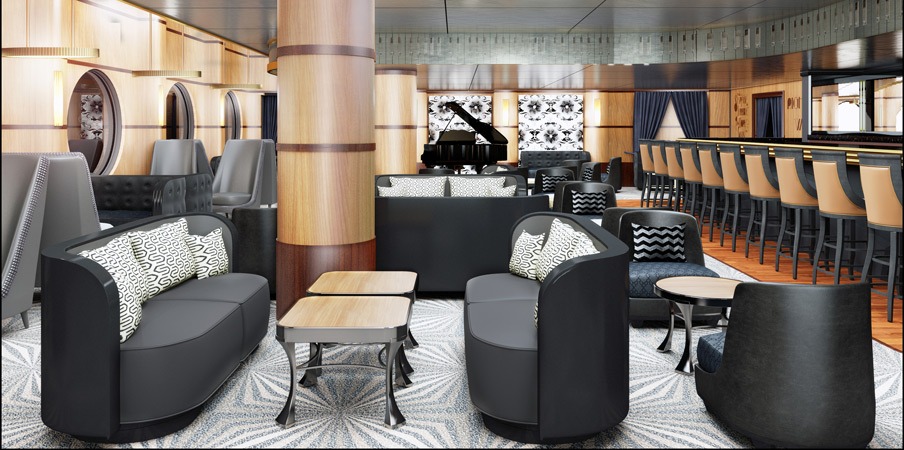 Disney Cruise Line isn't just for kids.  There are lots of adult only places where you can relax, get a drink, and enjoy the atmosphere.  Take a look at my picks for the Top 5 Bars on Disney Cruise Line.
Skyline is my absolute favorite bar.  You can find Skyline on the Disney Dream and Disney Fantasy.  The highlight of this bar is of course the skyline view.  This bar features 7 LCD big screens that offer a view of some of the world's most famous cities.  The view changes to a different city every 15 minutes and the drink menu features cocktails inspired by each city.  The skyline even changes from day to night based as the day progresses on your cruise.  If you're on the Disney Fantasy go ahead and visit the bar the first night of your cruise and order the Cocktail Passport.  This will allow you to get 7 beverages throughout the course of your cruise and you get a neat passport souvenir to take with you.
La Piazza is an Italian themed bar on the Disney Fantasy modeled after a carousel. La Piazza features two Italian beers, prosecco, limocello, and live music.
Keys, as you can probably guess by the name, is a piano bar. Keys is located on the Disney Magic.  Keys features live music nightly and is a nice romantic spot for adults to reconnect and grab a cocktail.
Pink is an elegant bar on the Disney Dream designed to look like the inside of a Champagne bottle. The décor is absolutely fabulous. Pink usually hosts a champagne tasting on each cruise so check your Personal Navigator for the day and time.
O'Gills Pub is an Irish bar with dark woods, brass accents and a selection of Irish beers, located on Disney Magic, Disney Dream, and Disney Fantasy.  This a great bar to hang out with the guys and watch sports.  O'Gills features a beer flight and usually hosts lots of trivia.
Written by Shante Carson — Shante is a Disney Cruise Expert with over ten cruises taken on the Disney Dream, Disney Wonder, Disney Magic, and Disney Fantasy.  Bon Voyage!  Shante is ready to help you plan your magical Disney Cruise vacation. Book your next vacation with Shante at 252-917-0497 or shante@destinationsinflorida.com.