A trip to the Magic Kingdom at Walt Disney World would not be complete without a ride on Dumbo the Flying Elephant!  This classic attraction is located in the Storybook Circus area of Fantasyland.  The ride is based on Disney's 1941 animated film, Dumbo, the big-eared elephant who learns that he can fly.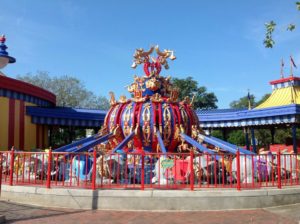 Gone are the days when you had to wait what seemed like forever in the hot sun for a ride on a whimsical flying elephant.  Now, this attraction has been transformed into an experience like never before!  The "wait" for the ride is now one of the best parts! As you enter the big colorful circus tent, you will be given a pager that looks like a circus ticket that actually holds your place in line. Children can now play in a fantastic circus-themed playground complete with slides and huge climbing nets.  There's a separate area for toddlers with fun and safe activities. Parents can relax in the comfort of air conditioning on bleachers that surround the play area as they watch the kids having fun!  When the pager goes off, you will go to a short line before boarding the ride.
The new Dumbo attraction now has two sets of side-by-side rotating elephants, moving in opposite directions, making your wait even shorter.  The centers of the gondolas feature Baby Dumbo as he is being delivered by the stork.  Water fountains encircle the bottom of the carousels and they sparkle at night with bright and colorful LED lighting.  As the band organ music begins you will control your elephant with a joystick that allows you to gently fly high into the air.  Children under the age of 7 must be accompanied by someone age 14 or older but there are no height restrictions.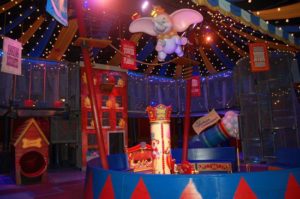 While Disney's Fastpass+ service is available for this attraction, you will miss the fun of the interactive waiting area.  Take time to feel the wind in your face with an awesome view of Storybook Circus as you experience Dumbo the Flying Elephant on your next Disney World vacation.
Written by Sheri Morris, "Main Street Morris" — Sheri is proud grandmother with a keen eye for detail. She specializes in Disney Travel for adults and RV travel.  Book your next vacation with Sheri at 804 405 5005 or at sheri@destinationsinflorida.com.