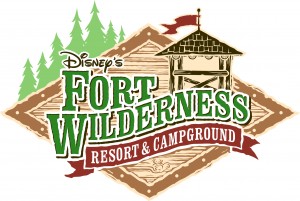 Are you looking for the most affordable way to enjoy all of the benefits of staying onsite at Walt Disney World?  The Campsites at Disney's Fort Wilderness Resort & Campground is the best option available. Located on 750 acres of pine and cypress forest—just a boat ride away from Disney's Magic Kingdom Theme Park, this resort will provide endless opportunities for family fun and adventure!
Imagine your family making memories to last a lifetime together in the great outdoors with wildlife such as deer, rabbits and armadillos. Picture your children playing at a spectacular pool with a giant waterslide, roasting marshmallows with Chip & Dale, horseback riding, watching movies under the stars or canoeing.  These are just a few of the things waiting for you at Fort Wilderness!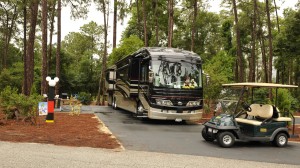 Almost 800 campsites are available on multiple loops. There are tent and pop-up sites, full hookups, preferred and platinum sites. Some sections are pet friendly. Each campsite is equipped with water, cable television and electrical hook-ups, a picnic table and a charcoal grill. Most campsites also include a sewer hook-up.
Multiple comfort stations are located throughout.  They're clean and air-conditioned with private showers, laundry and ice machines. There's a general store onsite to purchase groceries, snacks and souvenirs.
Since the resort is very large, you might consider renting a golf cart, bike or surrey bike to cruise around.  Complimentary bus transportation is also available to take you to different areas of the resort as well as the Disney theme parks.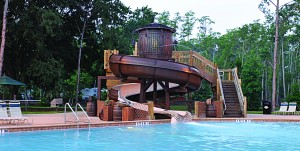 Dining options include:
If you plan a vacation at Disney's Fort Wilderness Resort…you'll never want to leave!  Why not make it happen for your family this year?
Written by Sheri Morris, "Main Street Morris" — Sheri is proud grandmother with a keen eye for detail. She specializes in Disney Travel for adults and RV travel.  Book your next vacation with Sheri at 804 405 5005 or at sheri@destinationsinflorida.com.