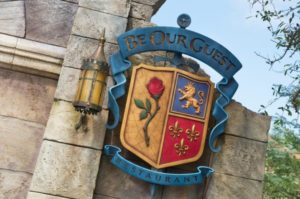 Be Our Guest is a 550-seat restaurant located inside the Beast's Castle in the Magic Kingdom at Walt Disney World. The name of this enchanting restaurant was inspired by the song "Be Our Guest" from the film, Beauty & the Beast.  French-inspired items are included on the menu as well as some traditional fare. This restaurant is a little different from others at Walt Disney World. During lunch hours, it serves as a quick service location but for dinner, it transforms to a table service restaurant.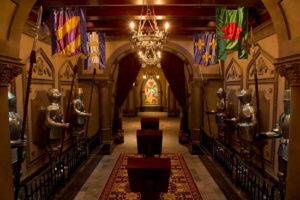 As you enter the castle, you will see that the lighting is dim.  There is a long hallway with stained glass windows and suites of armor guard.  Listen carefully and you might hear them carrying on a conversation!  Each dining room has distinct features.  The beautiful Ballroom has high ceilings, The West Wing, is an almost sinister room that showcases the Enchanted Rose, and The Rose Gallery, which showcases artwork of Belle and Beast.
Ordering is done by a touch screen terminal.  Cashiers are available to assist you if needed.  Once your order is placed, you will be given a magic rose to put on your table.  The rose is programmed so the wait staff will be able to deliver your lunch to your table. Even though this is considered quick service, your meal is served on real china and flatware!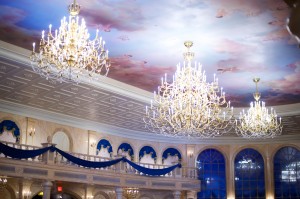 Highlights of the lunch menu include carved turkey sandwich, carved roast beef or croquet-monsieur sandwich; all served with pommes frites (fries).  Some other options are a tuna Nicoise salad, a quinoa salad or a vegetable quiche.  French Onion and potato leek soups are also available. Kids will love the Mickey meatloaf or the whole grain macaroni among other offerings. Scrumptious desserts include lemon-raspberry, chocolate and tropical fruit cream puffs or lemon meringue, triple chocolate or strawberry cream cheese cupcakes.  For a really special treat, you could choose the Master's cupcake.  It's topped with "The Grey Stuff".  Try it –it really is delicious!
Get in line early for a delicious lunch you won't soon forget!  Who wouldn't want to dine in the Beast's Castle?!!
Written by Sheri Morris, "Main Street Morris" — Sheri is proud grandmother with a keen eye for detail. She specializes in Disney Travel for adults and RV travel.  Book your next vacation with Sheri at 804 405 5005 or at sheri@destinationsinflorida.com.