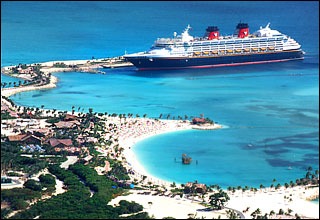 Are you looking for a fun and romantic honeymoon? You may be interested in a Disney Cruise Line honeymoon, then! With adult only dining options, spa treatments, and the option to visit some of the country's most beautiful islands, you're sure to love a Disney Cruise Line honeymoon! Here are just a few options for a Disney Cruise Line honeymoon:
4 Night Cruise- Turn your honeymoon into a dream come true on a 4 night journey filled with magic, romance and impeccable Disney service. It will be a honeymoon to remember as you discover enchantment in the heart of Bahamian paradise.
7-Night Land and Sea Cruises- Experience the best of both worlds when you book an unforgettable honeymoon that combines a 3- or 4-day Bahamian cruise with an action-packed stay at the Walt Disney World® Resort.
7-Night Cruises- If a week of leisure and adventure is what you crave, let Disney Cruise Line® sweep you off on a 7-night Eastern or Western Caribbean cruise. You'll enjoy a delightful mix of at-sea relaxation and in-port excitement.
12-Night and 14-Night Transatlantic Cruises- Immerse yourself in an adventure that echoes the historic transatlantic crossings of the golden age of sea travel. Boasting scenic tropical splendor, sweeping seascapes and age-old locales, in addition to one-of-a-kind Disney entertainment, dining and recreation onboard, a Disney transatlantic cruise is your ticket to unforgettable destinations steeped in antiquity and culture thousands of years in the making.
4, 5, 7, 9, or 12-Night Mediterranean cruise- Explore ancient cities and age-old cultures brimming with history thousands of years in the making. Sail from home ports in Europe are Barcelona, Spain and Venice, Italy—cities renowned for their architectural wonders, charming cafés and unforgettable scenery. Either city is an excellent starting point for your Mediterranean cruise.
2-Night, 4-Night, or 5-Night California Coast Cruises- From the world-class comfort and detailed service of a Disney Cruise Line cruise, experience the scenic splendor of California. Savor spectacular seascapes as you sail along the Golden Coast—departing from San Diego, Los Angeles or Vancouver, Canada.
14 or 15 Night Panama Canal Cruises- Set sail on a 14-night Panama Canal cruise with stops at beautiful port cities along the Riviera Maya, the Mexican Riviera and Colombia or embark on a 15-night Panama Canal cruise that departs from Miami, Florida and charts a course for San Diego, California.
Are you considering a Disney Cruise Line Honeymoon? I'd love to help you plan your Disney Cruise Line honeymoon at no cost to you and help you choose the perfect cruise for you! Contact Siera for more information or to request your free, no obligation quote.
Written by Siera Duiser, "Disney BridalEars" — Siera has grown up loving all things Disney!  She even had her very own Disney Fairytale Wedding in 2011. Now Siera enjoys Disney World with her own family.  Siera specializes in Disney weddings, honeymoons, and traveling with younger children.  Book your next vacation with Siera at siera@destinationsinflorida.com.