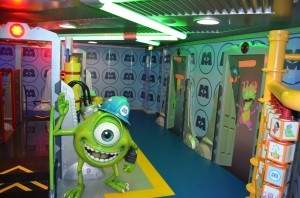 Here are the answers to a few more questions that you might have for your first cruise with Disney Cruise Line.
How do I know what activities are going on and how do I find them? The Personal Navigator is your key to what's happening on the ship.  You will be given your first Personal Navigator when you check in.  Each night your stateroom attendant will leave the Personal Navigator for the next day of your cruise in your room.
How do I book excursions? You can book excursions before you go on your cruise on the Disney Cruise Line website.  Just go to the "My Cruise Activities" under the Planning Center. Once onboard you can book excursions at the Port Adventures desk.
What if there's an emergency or inclement weather?  Your safety is extremely important to Disney Cruise Line.  There is a mandatory safety drill on the first day of your cruise so you can familiarize yourself with the emergency procedures.  Disney has the latest technology and monitors the weather throughout your cruise.  If needed Disney will change course to avoid inclement weather in order to ensure your safety.
How do I keep my children occupied?  No one tops Disney when it comes to entertaining children on a cruise vacation.  The youth clubs have hours of planned programs and interactive activities just for kids.  If you want to spend time together, Disney has many family activities, live shows, and character experiences to help you fill your day with fun.
What if I get seasick or have a medical emergency during my cruise? Pick up an over the counter medication for seasickness from your local drug store before your cruise to be safe.  If you need medical care while onboard there is a physician and nurse on call 24 hours a day.  Disney Cruise Line offers vacation insurance to all guests that will cover the cost of unexpected medical emergencies.
Written by Shante Carson — Shante is a Disney Cruise Expert with ten cruises taken on the Disney Dream, Disney Wonder, and Disney Fantasy.  Bon Voyage!  Shante is ready to help you plan your magical Disney Cruise vacation. Book your next vacation with Shante at 252-917-0497 or shante@destinationsinflorida.com.