Why Vacationing with an Extra Grown Up is a Great Idea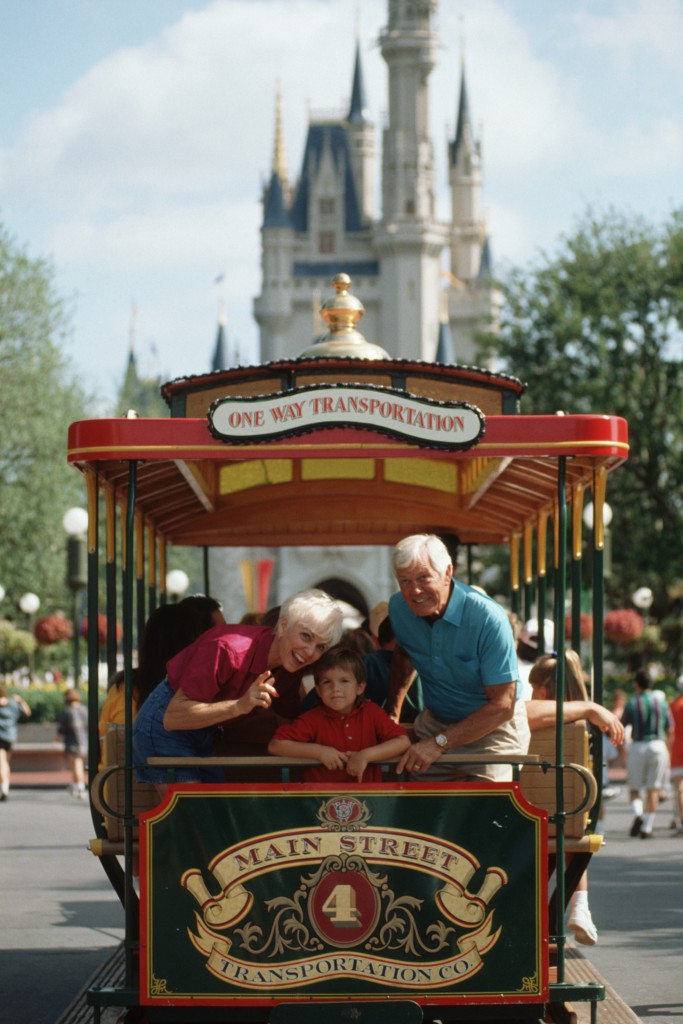 I recently met up for coffee with my dear friend Kate who just returned from her gazillionth trip to Disney World. I could not wait to hear all the details about how she liked her MagicBands, the new FastPass+ process, her adventures and the crazy things she did on her trip. To know Kate, is to know something hysterical or completely unbelievable happened!  When in the middle of our conversation she mentioned her in-laws! Not sure I heard her correctly, she mentions them again! I politely interrupted her and asked, "Why on earth would you go on vacation with your in-laws?"
"Are you kidding me? Why wouldn't I? We always travel to Disney World with an "Extra Grown-up!""
But for the life of me, I couldn't fathom why anyone would!  She proceeded to tell me all the positive and rather awesome reason to travel with an "Extra Grown-up" (EGU) like your in-laws, parents or even a babysitter!
1. You and your husband can enjoy dinner on our own. How often does that really happen?  You don't have to cut up someone else's food.  You don't have to share (if you don't want to). Have that extra glass of wine.  And you can go somewhere that doesn't serve chicken nuggets and French fries!
 2. Go on "Big Kid" rides together. Let's face it. Adults like the rides too! If you have little ones, you may not be able to enjoy rides like Space Mountain, Big Thunder Mountain, or any other ride that has height restrictions! Or, if you do, one parent is always left behind! The "EGU" can hang with the kids while mom and dad get to ride something together!
 3. You can sit for 5 minutes without anyone asking what's next and generally have a few moments of adult time together. You can sit and people watch or enjoy an ice cream together.
 4. Have the "EGU" sit with the kids while you stand in the food line. Standing in line can be such a drag for kids! Especially when it's at the height of the lunch or dinner rush. Lines can be a 20, 30 even 60+ min wait without reservations! They can grab an open table and hang while you get the food!
 5. Grab FastPasses – Even though this is being phased out, it's still nice to have someone run a head grab your FastPasses while they are available.
 6.  Have someone stay with the little ones during a parade so that you can do a bit of shopping.  I don't' know about anyone else, but shopping with kids can be tough. They want everything they see. They touch everything, and can get lost.  Go do some shopping without them and look at the things in the adult section too, not just the kid section!
7.  Your child will always have a hand to hold. This is great with multiple children! Don't need anyone getting lost!
 8.  She/he will always had someone to ride with.  I can only stand the Tea Cups so many times! Let the EGU take a turn!
 9. You have someone you can split the cost with of a larger, more expensive, Deluxe Resorts or a Cabin. What a great way to stay in that nice resort you've always wanted! Or a villa or suite! Having someone to help/split the cost with now makes it possible!
 10. The added benefit of special time with with Grandparents in the most magical place on earth!
Now, I don't want this to sound like Kate doesn't like to vacation with her child, because she does. It's just nice to have an extra set of hand to help along the way!
The next time you are planning any Disney adventure think about taking that EGU with you!
**A special thank you to Kate Thomas Delise for sharing her time and amazing stories with me for this article! You rock!**
Written By Heather Butler – an Agent with Destination to Explore. Heather is an expert in planning Disney & Orlando vacations.  To book your next vacation with Heather, contact her for a free quote at 717-587-9233 or heatherbutler@destinationstoexplore.com !