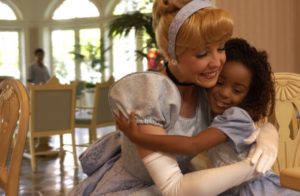 I was hesitant to make a dinner reservation for Cinderella's Happily Ever After Dinner at 1900 Park Fare at Disney's Grand Floridian Resort.  After all, my husband and I didn't have any children with us on this trip.  After hearing great reviews, we decided to give it a try.  Besides, the Grand Floridian is such a beautiful resort and is close to the Magic Kingdom where we planned to be that day.
We were pleasantly surprised!  As we entered the restaurant, there was a beautiful themed mural where you can have a family photo made with a PhotoPass photographer.  The packages can be purchased during dinner.
The restaurant is bright, crisp and clean.  I was delighted by the detail in décor including the adorable carousel horses throughout.  It was the perfect setting for a dinner with Cinderella, Prince Charming, Lady Tremaine and the wicked stepsisters.
The variety of food offerings on the buffet was impressive. There were many different types of colorful salads.  A huge assortment of items on the buffet included beef, seafood and pasta. The entrees were prepared to represent different "kingdoms" around the world.  A specialty of the house is the Floridian Strawberry Soup.  Cold soup?  Oh, yes!  A must-try—you'll be addicted! As is fairly common at buffet restaurants at Disney, there was a special section with kid-friendly food.  Desserts were plentiful and delicious.  I noticed the chef was thoughtfully assisting those at a nearby table who had special dietary needs.
Although the food was delicious, our most favorite part of the meal was the interaction with the characters.  As two "old folks", we never expected to have so much fun at a character dining experience!  Cinderella and Prince Charming visited our table, spoke with us and posed for pictures without a rush.  The ugly stepsisters, Anastasia and Drizella were absolutely hilarious!! We laughed until our sides hurt as they insulted each other and made loud, snide comments.  It was all great fun and a dining experience we won't soon forget.
Consider including a dinner at 1900 Park Fare on your next Walt Disney World vacation.  You'll be glad you did!
Written by Sheri Morris, "Main Street Morris" — Sheri is proud grandmother with a keen eye for detail. She specializes in Disney Travel for adults.  Book your next vacation with Sheri at 804 405 5005 or at sheri@destinationsinflorida.com.