Hello All,
Trivia Tink is back ! I hope you enjoyed the holidays, I know I did. Periwinkle made it snow all over Pixie Hollow so we could have a wonderful snowball fight. I hope you are enjoying our new format of  changing up our contests here a Pixie Hollow.  I decided that this week, we would do a trivia surrounding one of my favorite characters, a princess. Which leads us to this week's question….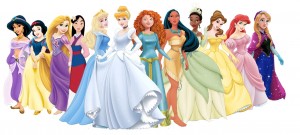 Which Disney Princess doesn't have a song ? (She sings one with someone as a child, but after her teen years there is none)
Think you know the answer? Email the answer to me at ErinBenge@DestinationsinFlorida.com by Sunday, January 12th, 12:00pm Eastern Time. A winner will be chosen at random from all correct responses.  The winner will receive this Princess Decal.