This week at Destinations in Florida, we decided to learn a little bit  about you. We want to find out where our followers are spending the holidays. I am enjoying the Christmas season from warm and sunny Texas, what about you?
Everyone who participates will have a chance to win a GREAT prize! We are giving away a Pirates of the Caribbean Snow Globe!
You can get up  to three entries to win to enter using Rafflecopter (link below). A winner will be chosen randomly from all entrants. Good Luck and Merry Christmas!
Enter our Rafflecopter giveaway!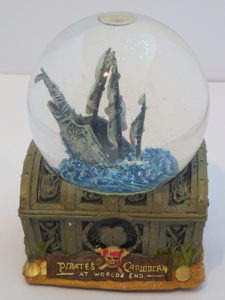 Written by Erin Benge. Erin is an expert in planning Disney & Orlando vacations.  She specializes in traveling with toddlers and multiple generations.  Book your next Disney & Orlando vacation with Erin at ErinBenge@DestinationsinFlorida.com!