The first day of a Disney Cruise is called Embarkation Day. Embarkation Day is so much fun. The buzz in the air in the terminal is so exhilarating and everyone is so excited to start their vacation.  The cruise terminal in Port Canaveral is fantastic.  Disney definitely has the nicest terminal I've ever seen.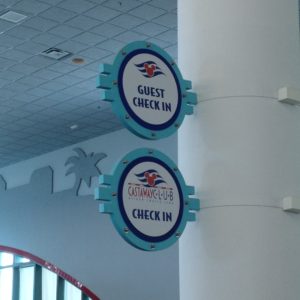 As soon as you get through security and head up the escalator you start to experience a little Disney magic. There is usually a character waiting for your first photo opportunity.  Lots of guests enjoy taking photos of the model ship.  There are two main lines to check in at the terminal.  One line is for first time cruisers and the other is for Castaway Club members.  There is also a dedicated check in station and lounge for concierge level guests.
The cruise terminal opens at 11am and guests can start boarding around 1pm. After you check in you will be given a boarding group number.  Each boarding group will be called to head through the Mickey entrance to board the ship.  All guests must be onboard by 3:45pm.  The staterooms are not ready until 1:30pm at which time you can drop off your carryon luggage.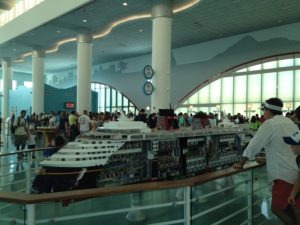 In the meantime you can take a ship tour, spa tour, or browse the youth activities spaces. Lunch will be served in several locations. All of the activities and lunch options are listed on your Personal Navigator. If you did not get one at check in, just head to guest services for a copy. There will be a mandatory life boat drill for all guests.  The drill is usually at 4pm and lasts about 15 minutes.  Once the boat drill is over, head up to the pool deck for the Sail Away Celebration.  Mickey, Minnie, and the gang all come to the stage to get the party started.  The best part of embarkation day is the realization that you are on a fabulous vacation!!
For the duration of your cruise there will be no school, work, cooking, or cleaning.  What can be better than that?
Written by Shante Carson — Shante is a Disney Cruise Expert with ten cruises taken on the Disney Dream, Disney Wonder, and Disney Fantasy.  Bon Voyage!  Shante is ready to help you plan your magical Disney Cruise vacation. Book your next vacation with Shante at 252-917-0497 or shante@destinationsinflorida.com.