Primeval Whirl is a basic Wild Mouse style roller coaster with a twist…a literal twist!  You will find it in Dinoland U.S.A. at Disney's Animal Kingdom theme park.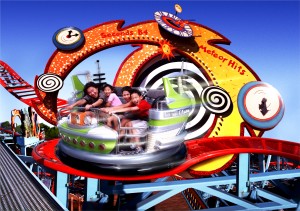 This area of Dinoland U.S.A. is known as Chester & Hester's Dino-Rama!  As the story goes, Late Cretaceous fossils were found in 1947 and researchers decided to purchase the dig area. Chester and Hester owned one small property and refused to sell it.  Instead, they opened a dinosaur themed carnival and named it Chester & Hester's Dino Rama!   The section now houses vintage, carnival style games and rides along with an archeological dig site and play area just for kids.
The attraction features thirteen free-spinning cars that seat four people each.  It's kind of like a tilt-a-whirl and roller coaster combined in one!  You'll travel back in time to a prehistoric era on a crazy, twisting track through the jaws of a dinosaur skeleton.  The sudden dips and tight hairpin turns  make you feel like you're going to fly right off the track, all while spinning round and round!  Unlike the Mad Tea Party at the Magic Kingdom, there is no way for you to control the spins.  The bright colored road signs warn "Metors", "Head for the Hills" and "The End is Near"!  It's a crazy, sometimes jerky ride that might leave you a little queasy if you're prone to motion sickness.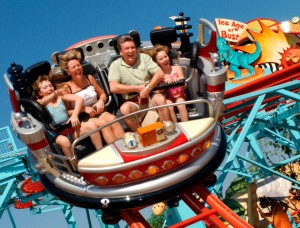 Primeval Whirl is actually two identical steel coasters, side-by-side that share one queue.  Each ride lasts about a minute and a half.  You must be 48 inches tall to ride but a handy rider-swap is available for families.  Take some time to experience Primeval Whirl on your next trip to Disney's Animal Kingdom.  It's definitely a wild ride!
Written by Sheri Morris, "Main Street Morris" — Sheri is proud grandmother with a keen eye for detail. She specializes in Disney Travel for adults and RV travel.  Book your next vacation with Sheri at 804 405 5005 or at sheri@destinationsinflorida.com.