Do you want to be a superhero?  Marvel's Avengers Academy is now accepting recruits on the Disney Magic.  The Oceaneer's Club has always been the home for youth activities for children ages 3 to 12.  On the Oceaneer's Club on the Disney Magic is also the home to a secret  S.H.I.E.L.D. base.  S.H.I.E.L.D. is a worldwide law enforcement agency that protects the world from extraordinary threats.  Youth onboard get to experience a hero training program as a part of their cruise on the Disney Magic.  Day One begins with Become Iron Man.  This training simulation allows youth to virtually suit up just like Iron Man. After putting on the Iron Man suit piece by piece youth will have some fun testing the suits features with a little target practice and a flight test.  In Become a Hero, heroes in training are briefed by Nick Fury.  After the briefing they get to create their own super hero suit including masks, capes, chest plates, and repulsor rays. Day One concludes with a visit by Captain America.  Captain America teaches the new recruits the Avengers Assemble call sign.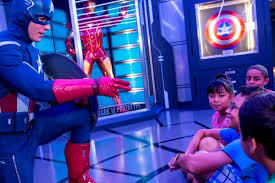 On Day Two, youth have to put their training to the test when they learn a supervillain, Red Skull, has plans to turn the Disney Magic into a deadly weapon.  As if this isn't bad enough, they soon find out that their Youth Activities Counselors have been put under an evil spell.  Youth must work together to save their Youth Activities Counselors, the Disney Magic, and the world from Red Skull's evil plot.  With all the amazing activities on the newly reimagined Disney Magic there is no limit to the fun your child will have onboard.
Written by Shante Carson — Shante is a Disney Cruise Expert with over eight cruises taken on the Disney Dream, Disney Wonder, and Disney Fantasy.  Bon Voyage!  Shante is ready to help you plan your magical Disney Cruise vacation. Book your next vacation with Shante at 252-917-0497 or shante@destinationsinflorida.com.