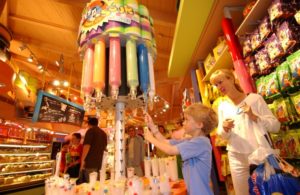 If you're looking for a fun place to pick up some sweet treats, look no further than Goofy's Candy Company at the Downtown Disney Marketplace!  While Goofy's is not the biggest candy store in the world, it's certainly one of the most unique.  The sweet aroma will tickle your taste buds as soon as you walk through the door.
The store is bright and colorful with a vast array of prepackaged goodies.  There is a large glass display case filled with all types of sugary goodness — cookies, fudge, specialty candy apples, cupcakes and more…so much more!  You can get a giant lollipop, bulk candy including Jelly Belly jelly beans, rock candy, sour candy, chocolate candy even a bit of sugar-free candy.  The choices of fun Disney-themed confections are endless!
What makes this candy store different is the create-your-own treat section.  First, pick up an order form and choose a base-such as an apple, marshmallow krispy treat, pretzel rods, huge Oreo cookie or marshmallows skewered on Mickey Mouse plastic straws.  Next, choose the type of chocolate or caramel to dip it in.  Then you customize the toppings.  You can choose from colorful sprinkles, M&M's, Reese's Pieces, pecans, almonds, walnuts, peanuts, coconut, Oreo crumbs, crushed Butterfingers, peanut butter chips, chocolate and white chocolate chips and more!  Finally, you select the type of drizzle to top it off.  A cheerful cast member will lovingly prepare and package the delectable treat right before your eyes.  Be prepared, it's going to be huge and it's going to be sweet!
Goofy's Candy Company also has drinks to please everyone.  Goofy's Coffee Counter has a nice selection of coffee and tea. The Goofy's Glaciers section of the store features delicious fruit-flavored slushies with a Build-a-Cup option where you mix and match a variety of feet and hats for a special souvenir cup.
Take some time to feel like a kid in a candy shop at Goofy's Candy Company on your next Disney vacation.  You'll make some sweet memories big enough to share!
Written by Sheri Morris, "Main Street Morris" — Sheri is proud grandmother with a keen eye for detail. She specializes in Disney Travel for adults and RV travel.  Book your next vacation with Sheri at 804 405 5005 or at sheri@destinationsinflorida.com.