Villains Tonight is one of the Broadway style shows onboard the Disney Dream and Disney Magic.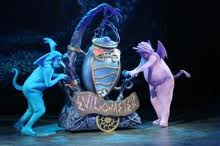 Villains Tonight is all full of Disney villains but since the show is a comedy there is no need to fear.  Pain and Panic open up the show in the Underworld.  Hades has been in a funk ever since he was defeated by Hercules.  The Welcome to the Underworld dance number introducing Hades is interrupted by the Fates.  The Fates tell Hades that he will no longer rule the Underworld unless he gets more evil.  Hades is only given one night to prove he is evil enough to rule.  Hades takes a look at the Evil O Meter and sees that it's almost empty.  Hades decides that the best way to fill up the Evil O Meter is to invite some of his evil friends down to the Underworld.  Hades sends Pain and Panic to hand deliver invitations to Maleficent and the Evil Queen.  In the meantime, the audience is treated to performances by Ursula, Scar, Yzma, Captain Hook, and Cruella de Vil.  All of these fabulous villains help raise the level in the Evil O Meter.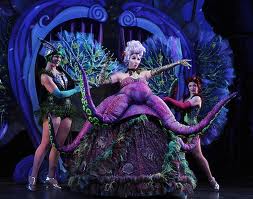 Hades is on a roll until hosts the talk show, Hot Talk.  Jafar and Iago end up doing a duet of "Wind Beneath My Wings" and the Evil O Meter drops to empty.  Hades thinks all hope is lost when Pain and Panic tell him that Maleficent and the Evil Queen turned down his invitation.  At the end of the show, Maleficent and the Evil Queen show up and help Hades get back in touch with his evil side.  Villains Tonight is full of pop culture comedy and a good show for the entire family.  Whether you love them or love to hate them the villains play a critical role in all of your favorite Disney movies.  Villains Tonight celebrates this role in proper Disney fashion.
Written by Shante Carson — Shante is a Disney Cruise Expert with over eight cruises taken on the Disney Dream, Disney Wonder, and Disney Fantasy.  Bon Voyage!  Shante is ready to help you plan your magical Disney Cruise vacation. Book your next vacation with Shante at 252-917-0497 or shante@destinationsinflorida.com.