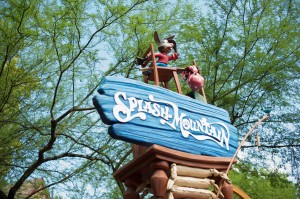 Splash Mountain is one of the most popular attractions at Disney's Magic Kingdom theme park. It's a thrilling log flume ride in Frontierland where guests step into a hollow log and float through different scenes of the 1946 Disney film, "Song of the South".  This happy adventure is fun for all ages although children must be 40" tall to ride.
Everyone will enjoy over 100 colorful audio-animatronics that tell the story of B'rer Rabbit who leaves his home in search of adventure and fortune.  Br'er Fox and Br'er Bear continually try to catch him but they're always tricked into letting him go free! Among the twists, turns and dips through swamps, bayous and creepy caves (some are dark), you will pass through:
Critter Cave
the Fishing Place
the Old Swimming Hole
Br'er Fox's Lair
Br'er Rabbit's home in the Briar Patch
One of the best parts of this ride is the music!  It draws you into the whole story line.  Songs include "Zip-a-Dee-Doo-Dah", "How Do You Do?" and "Ev'rybody's Got a Laughing Place".
Be prepared to get wet, especially if you're seated in the front or on the right.  There are 950,000 gallons of water!  It's wise to bring plastic bags to protect your electronic devices and rain ponchos to keep you dry, if desired. The ride ends with a celebration of Br'er Rabbit's homecoming and a 5-story waterfall down Chickapin Hill into the Briar Patch at the speed of 40 miles per hour. However, it looks and sounds scarier than it really is. Non-riders can view the splashdown, take photos and get a little wet on a nearby bridge.  There's also a small playground for the little ones near the exit.
Due to the huge popularity of this attraction, visit early in the day or use a FastPass to experience Splash Mountain, one of the best log flume rides ever…Disney Style!
Written by Sheri Morris, "Main Street Morris" — Sheri is a proud grandmother with a keen eye for detail. She specializes in Disney Travel for adults and RV travel.  Book your next vacation with Sheri at 804 405 5005 or at sheri@destinationsinflorida.com.