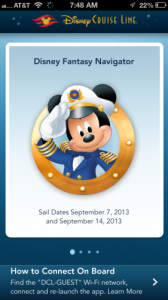 Guests can now view their Personal Navigator via smart phone on the Disney Fantasy with the new Disney Fantasy Navigator app.  You can download the app in the iTunes Store or Google Play Store.  The app is free and there's no need to worry about data charges.  All you need to do is put your phone on airplane mode and turn on the wifi.  You will be connected to the ship's Intranet and have all of the information from your Personal Navigator at your fingertips.  Make sure airplane mode is on because Disney will not reimburse you for any data charges from your cell phone carrier.  The Disney Fantasy Navigator allows guests to get a full calendar of events being held on the ship along with the location.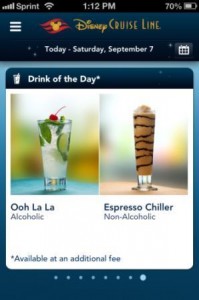 The app features a deck map to make sure you find your destination. You can click on each activity to get additional information.  Guests will be able to view the movie schedule, information on the feature show in the Walt Disney Theatre, Drink of the Day, port of call information, and character greetings.   The app will also have special offers and promotions being offered throughout the ship.  You can mark your favorite activities in the app and then you're on your way to enjoy all the fun the Disney Fantasy has to offer.    One of the things the app offers that you cannot find on the Personal Navigator is the nightly dinner menu for the rotational dining restaurants.  Disney Cruise Personal Navigator is only available on the Disney Fantasy but there are plans to launch it on the rest of the fleet very soon.
Written by Shante Carson — Shante is a Disney Cruise Expert with over eight cruises taken on the Disney Dream, Disney Wonder, and Disney Fantasy.  Bon Voyage!  Shante is ready to help you plan your magical Disney Cruise vacation. Book your next vacation with Shante at 252-917-0497 or shante@destinationsinflorida.com.