I will admit I had not yet experienced the coveted Wizarding World of Harry Potters number 1 selling item–Butterbeer.  In February, I finally had the chance to enjoy this treat. Boy am I glad I did!! This treat can be served cold or frozen, I am a frozen Butterbeer girl. It's the most delicious frozen mug of goodness I have ever had. You can get this in a regular cup or a fun collectors mug–I spent the extra cash on the collector mug. As I strolled around the Wizarding World I took in all of the details and sights while enjoying my Butterbeer. Every Muggle will love this treat for sure.
When you enter Hogsmeade Village there is a Butterbeer stand right in the middle of the village, there will surely always be a line because people think they can only get it there–not true. Head on over to the Hog's Head Pub for one, there is rarely a long wait and the ambience is wonderful. You can even look around Three Broomsticks once you get your beverage.
Have you enjoyed a Butterbeer yet? If so, how would you describe it?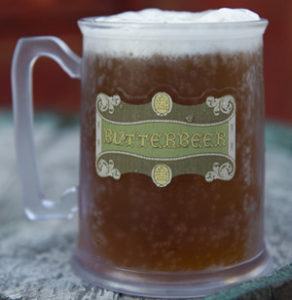 Jennifer Greene is an Agent with Destinations in Florida Travel, she is a Universal Parks and Resorts Specialist.  Jennifer is known as the Vacation Wizard and will help create magic for your next vacation!  Contact her today at jenniferg@destinationsinflorida.com or 443-424-0181 to book your next Magical Journey!