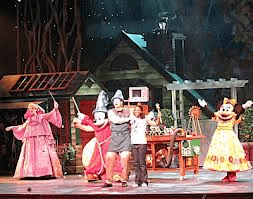 Disney's Believe is the signature show on the Disney Dream and Disney Fantasy.  Disney's Believe starts out in the garden of Dr. Cornelius Greenaway.  Dr. Greenaway is a brilliant botanist who is expecting a visit from the Journal of Horticulture to examine his new plant. Dr. Greenaway is so preoccupied that he barely acknowledges his daughter, Sophia's birthday. Sophia makes a birthday wish that her father believe in magic.  Since we are living in the world of Disney, Genie from Disney's Aladdin appears to make her wish come true.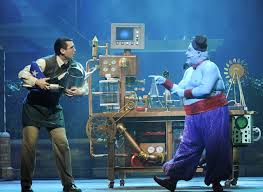 Genie takes Dr. Greenaway through the adventure of a lifetime to help him believe in magic.  Genie gets help from Baloo, Rafiki, Mary Poppins, Princess Tiana, Peter Pan, Pocahontas and many more.   With a little help from your favorite Disney characters, Dr. Greenaway realizes that nothing is more important than his daughter and Sophia's wish comes true.  Dr. Greenaway asks Genie to help him surprise Sophia with the best birthday party ever.  There were several teary eyed adults in the audience.  Disney's Believe is the best show I've seen on Disney Cruise Line.
Written by Shante Carson — Shante is a Disney Cruise Expert with over eight cruises taken on the Disney Dream, Disney Wonder, and Disney Fantasy.  Bon Voyage!  Shante is ready to help you plan your magical Disney Cruise vacation. Book your next vacation with Shante at 252-917-0497 or shante@destinationsinflorida.com.