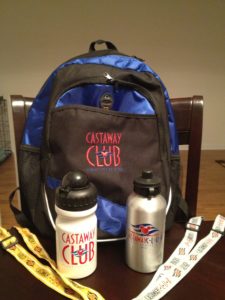 As soon as you complete your first Disney Cruise, you become a member of the Castaway Club. Membership is free and comes with lots of perks and privileges.  All you have to do is go to the Disney Cruise Line website after your first cruise and then you can login to view all of your benefits. The website has lots of great information, fun downloads, and the Castaway Compass newsletter.  Castaway Club benefits are based on the number of cruises you have completed. After your first cruise you become a Silver Castaway member.  As a Silver Castaway you are able to take advantage of advanced booking for shore excursions, child care, fine dining, and spa reservations.  There is a dedicated Castaway Club toll free number for members to ask questions and make reservations.  When you arrive at the port, Castaway members have their own check in line which is usually gets you on the ship a little faster than the regular line.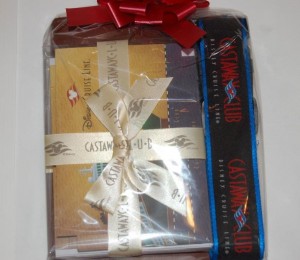 You will receive a free lanyard and special Key to the World card at check in. Then when you get to your room there will be a Welcome Back stateroom gift sitting on your bed.  After five cruises you are a Gold Castaway Member.  As a Gold Castaway you will receive all of the benefits of the Silver Castaway as well as early booking opportunities for new itineraries, an invitation to an onboard Castaway Club reception, and special onboard shopping opportunities.  After completing ten cruises you become a Platinum Castaway Member.  Platinum Castaway members also receive a complimentary dinner at Palo and priority check in at the cruise terminal.
Written by Shante Carson — Shante is a Disney Cruise Expert with over eight cruises taken on the Disney Dream, Disney Wonder, and Disney Fantasy.  Bon Voyage!  Shante is ready to help you plan your magical Disney Cruise vacation. Book your next vacation with Shante at 252-917-0497 or shante@destinationsinflorida.com.