Disney's Magical Express is a fantastic service offered to guests staying at select Walt Disney World Resort Hotels. It conveniently transports you and your luggage from the Orlando International Airport to your Disney Resort hotel stress-free and free of charge!
To use the service you need to provide Disney with the details of your flights or have your friendly travel agent do it for you. You will be mailed an information booklet, special luggage tags and transportation vouchers. Prior to your magical vacation, place the tags on your bags.
Once you arrive at your home airport, check your luggage at the desk. The special tags will indicate to the baggage handlers that you're using the Magical Express. Your luggage will be magically transported to your Disney Resort Hotel. They will arrive about 3-4 hours after check in. You won't have to worry about baggage claim or lugging them around when you get to Orlando!  They will be transported separately so you won't even see them until they are delivered to your room. There's no need to wait around either… Go out and enjoy the parks!  They will place the luggage in your room if you're not there.
Be sure to pack any essentials and valuable items in your carry-on bags. It's a good idea to pack a change of clothes, your swimsuit, camera and medication. If you have an early flight and your room is not yet ready you may check your carry-on bags at the Luggage Assistance desk.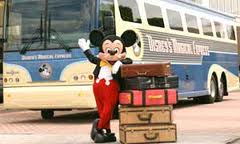 When you arrive at Orlando International Airport, take the shuttle to the main terminal. You will be on Level 3. Head over to the Disney's Magical Express Welcome Center, located on Side B, Level 1, Ground Transportation.  Signs are  posted and friendly employees are there to greet you!
You'll be notified the day before checkout of your motor coach pickup time. If you're flying with a participating airline, you can check your luggage and receive your boarding pass at the Resort Airline Check-in Desk at your hotel.
Disney's Magical Express. What better way to begin and end your magical Walt Disney World vacation?
Written by Sheri Morris, "Main Street Morris" — Sheri is proud grandmother with a keen eye for detail. She specializes in Disney Travel for adults and RV travel.  Book your next vacation with Sheri at 804 405 5005 or at sheri@destinationsinflorida.com.