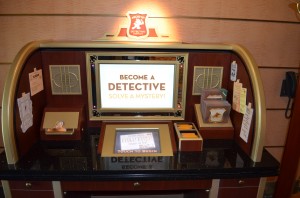 Become a detective and help solve a mystery on your next cruise.  The Midship Detective Agency is always hiring on the Disney Dream and Disney Fantasy.   There are three cases to choose from:  The Case of the Missing Puppies, The Case of the Plundered Paintings, and The Case of the Stolen Show.  The Case of the Stolen is a muppet adventure only available on the Disney Fantasy.  All you have to do is locate one of the Midship Detective Agency stations and sign up.  Mickey will give you instructions on how to play the game once you sign up.  You will need to pick up a game card and case book.  In order to solve the case you will need to search the ship for clues.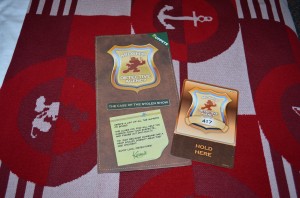 There are several pieces of enchanted artwork throughout the ship that contain the clues for your case.  The case book contains a map showing you where to find the enchanted artwork and a list of suspects.  Once you find a piece of enchanted artwork you will need to hold up your game card.  Each game card has a unique barcode so when you hold it up to the painting it will give you the next clue.  Once you get a clue you can write down the information and begin crossing off suspects in your case book.  This game is a lot of fun and a great activity for a day at sea.  You can play individually or as a family.  Are you ready to test your detective skills?
Written by Shante Carson — Shante is a Disney Cruise Expert with over eight cruises taken on the Disney Dream, Disney Wonder, and Disney Fantasy.  Bon Voyage!  Shante is ready to help you plan your magical Disney Cruise vacation. Book your next vacation with Shante at 252-917-0497 or shante@destinationsinflorida.com.